Duane Morris Adds Intellectual Property Partner Boris Zelkind in San Diego
October 8, 2018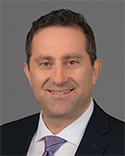 SAN DIEGO, October 8, 2018—Boris Zelkind has joined Duane Morris LLP's San Diego office as a partner in the firm's Intellectual Property Practice Group. He was most recently a partner at Knobbe Martens in San Diego.
"Boris brings a strong IP litigation practice to Duane Morris," said Matthew A. Taylor, CEO and Chairman of Duane Morris. "We're excited to add his skills to our robust Intellectual Property Practice Group."
Zelkind focuses on intellectual property litigation, including patent infringement, trade secrets, trademark, copyrights and unfair competition cases. He has successfully tried cases to juries throughout the United States and presented numerous oral arguments to the United States Court of Appeals for the Federal Circuit. Zelkind has litigated complex trademark infringement matters and has written and spoken extensively on the Defend Trade Secrets Act of 2016. He also oversees patent infringement proceedings and nullity actions in Europe. Zelkind has been recognized by his peers for inclusion in the San Diego Super Lawyers list in the field of IP Litigation every year since 2009. He has also been selected to several consecutive editions of The Best Lawyers in America® for his work in Copyright Law and Patent Litigation.
Zelkind handles matters in a variety of technology areas, including software, automotive technology, medical device, consumer products, video compression, telecommunications, commercial diving equipment, solar energy, home automation systems, 3D printing, and cycling technology. He lectures frequently on intellectual property litigation subjects and is a lawyer representative to the United States District Court of the Southern District of California.
"Boris' experience adds increased depth to our group, especially in the trade secrets area, in which we were recently named one of the top 10 firms in Lex Machina's first-ever 'Trade Secret Litigation Report,'" said L. Norwood (Woody) Jameson, partner and chair of Duane Morris' Intellectual Property Practice Group. "We're thrilled to have him join the team."
"We're happy to have Boris join the San Diego office," said Edward M. Cramp, managing partner of Duane Morris' San Diego office. "His IP litigation experience will benefit not only our clients in San Diego and throughout California, but nationally and internationally."
Zelkind is a graduate of DePaul University College of Law (J.D., 1994) and a graduate of the University of Minnesota (B.S., 1991).
About Duane Morris' Intellectual Property Practice Group
Duane Morris LLP has been ranked among the leading law firms handling patents, trademarks, copyrights and related IP litigation by national publications U.S. News and World Report and IP Law360. The firm's IP attorneys focus on leveraging clients' valuable intellectual property to help them achieve success in the marketplace, offering portfolio management and strategic advice on obtaining and protecting IP—from patents to trademarks and copyrights, to licensing and technology transfers, to IP audits and IP asset due diligence.
About Duane Morris
Duane Morris LLP provides innovative solutions to today's multifaceted legal and business challenges through the collegial and collaborative culture of its more than 800 attorneys in offices across the United States and internationally. The firm represents a broad range of clients, spanning all major practices and industries.