Duane Morris Welcomes Corporate Partner Samuel J. Pearse in London
18 November 2019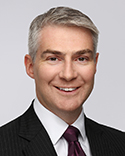 Samuel J. Pearse
LONDON, 18 November, 2019—Duane Morris LLP announced today that Samuel J. Pearse has joined as a partner in the firm's Corporate Practice Group in the Duane Morris London office. Pearse enhances the firm's corporate and securities transactions capabilities. Prior to joining Duane Morris, Pearse was a partner at Pillsbury Winthrop Shaw Pittman LLP.
"Sam is a broadly-versed corporate lawyer and a great addition to our London office and our Corporate Practice Group," said Matthew A. Taylor, CEO and Chairman of Duane Morris. "We're excited to continue to build our London office through strategic hires to serve our clients on both sides of the Atlantic, meeting their business needs."
"Sam's skills and experience will be a strong addition to our group and our corporate capabilities in London," said Brian P. Kerwin, partner and chair of Duane Morris' Corporate Practice Group. "We're excited to add such a talented lawyer to serve our clients across the globe."
"Sam's cross-border transactional practice is a great fit for our office and the firm as a whole," said London office co-managing partner Susan A. Laws. "He'll complement our office well, both personally and professionally," added London co-managing partner Alex Geisler.
Pearse advises clients in the UK and internationally on a wide range of complex corporate and securities transactions. His practice includes private and public mergers and acquisitions, capital markets, joint ventures, investment funds, private equity and finance. Pearse advises on cross-border investments, acquisitions, disposals, restructurings, accessing capital markets and corporate issues. He works with Fortune 50 companies, venture capitalists and startups in the financial services, technology, energy, aerospace and defense sectors. In the investment funds arena, Pearse counsels European and U.S. fund managers on fund formation, strategy execution co-investments and regulatory issues, and helps U.S. fund managers enter European markets.
About Duane Morris
Duane Morris provides innovative solutions to today's multifaceted legal and business challenges through the collegial and collaborative culture of its more than 800 attorneys in offices across the United States and internationally. The firm represents a broad range of clients, spanning all major practices and industries.