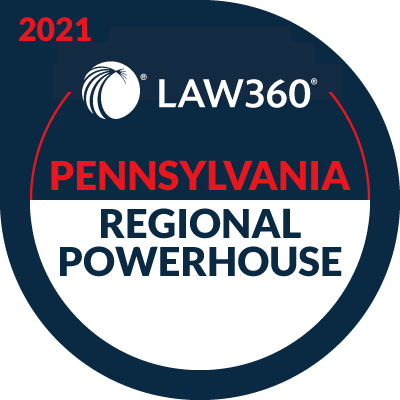 Adapting to the needs of the moment was the theme of the year at Duane Morris LLP, which earned its Pennsylvania Powerhouse nod for 2020 by pivoting to serve the hottest real estate markets, continuing its trial advocacy virtually and addressing the slate of new needs suddenly brought on by the pandemic.
As the COVID-19 pandemic shuttered offices, businesses and courthouses, the firm, founded in Philadelphia, created a specialty team of about 60 attorneys around the country from different practice groups. The team worked 24/7 to address the sudden influx of questions about what to do with employees during state-mandated closures, how to limit liability when bringing people back to work, or how to change gears and meet the need for pandemic-related products and services, said Sharon L. Caffrey, co-chair of the firm's trial practice group.
"We really did pivot very quickly to address our clients' needs related to the pandemic," she told Law360. "Associates and partners who were scheduled for trials and depositions, we turned them to [addressing] regulatory matters or assisting the employment group, trying to keep up with those issues." [...]
For Berkshire Hathaway and National Fire & Marine Insurance, the firm in January notched one of the insurance industry's first wins against a business seeking coverage for its losses during the pandemic. [...]
And in a case against biotech firm Inovio, Duane Morris got some claims trimmed from an investor lawsuit accusing the company of overstating its progress on a COVID-19 vaccine in the early days of the pandemic.
Beyond the pandemic, Duane Morris had former CSX and Conrail railroad employees' cases removed from Philadelphia courts in the wake of a Superior Court ruling that Pennsylvania was an inconvenient forum for cases related to injuries that took place in other states.
Representing egg producer Rose Acre Farms, the firm beat efforts in the Third Circuit to undo the farm's win in an antitrust case accusing it of using industrywide programs to reduce supplies and drive up prices. [...]
The firm also continues to represent the Philadelphia Phillies in an intellectual property suit over the redesign of the team's mascot, the fuzzy green Phillie Phanatic. [...]
Outside the courtroom, the firm's real estate and corporate practices made several major deals and guided developments taking place despite the pandemic. Repeat business was a strong factor, attorneys said.
"At a high level, we in the corporate practice have been very busy — really throughout the pandemic — except for a brief pause at the beginning ... particularly in mergers and acquisitions, finance, and capital projects," said Darrick Mix, head of Duane Morris' capital markets group. [...]
"We've done a number of their transactions for some number of years; they're a large and growing company," Mix said. "It's been nice to see them come back to us for repeat business, and to be part of their growth strategy."
Another repeat client, NorthPoint Development, turned to Duane Morris for help in its $160 million acquisition of the Keystone Industrial Port Complex in Bucks County from U.S. Steel.
NorthPoint, which specializes in the redevelopment of brownfield sites, intends to turn the site into a major logistics center, reflecting the booming market for warehouse space driven by companies like Amazon, said George Kroculick, co-chair of the firm's real estate practice group. [...]
Both Caffrey and Mix touted Duane Morris' work on diversity, noting that the firm was Mansfield Rule-certified during the pandemic. [...]
Kroculick said the firm was aiming to expand its corporate and real estate practices through industry-facing marketing — not necessarily trying to be "all things to all people," but pitching the firm's particular skills to potential clients and explaining how those skills can help.
In addition to expanding its real estate practices in New York, Texas and Northern California, Kroculick said, the firm was looking at potential new hires in Philadelphia and Pittsburgh, where it has more than 200 of its 706 U.S.-based attorneys. Mix noted that the corporate practice group had expanded by more than 20 attorneys over the last three years.
Caffrey said the pandemic made things difficult for integrating new hires and first-year associates, but the firm adapted to provide them with online mentoring and remote participation in some of the firm's biggest ongoing matters. [...]
"We had our associate mentors do a lot of outreach. It was a big challenge to try to think creatively. They're hitting the ground and they don't know anybody; they didn't have those connections to people in the office," Caffrey said. "It was good to get them on big teams, so they were regularly talking to and meeting virtually with other partners."
To read the full article, please visit the Law360 website (subscription required).