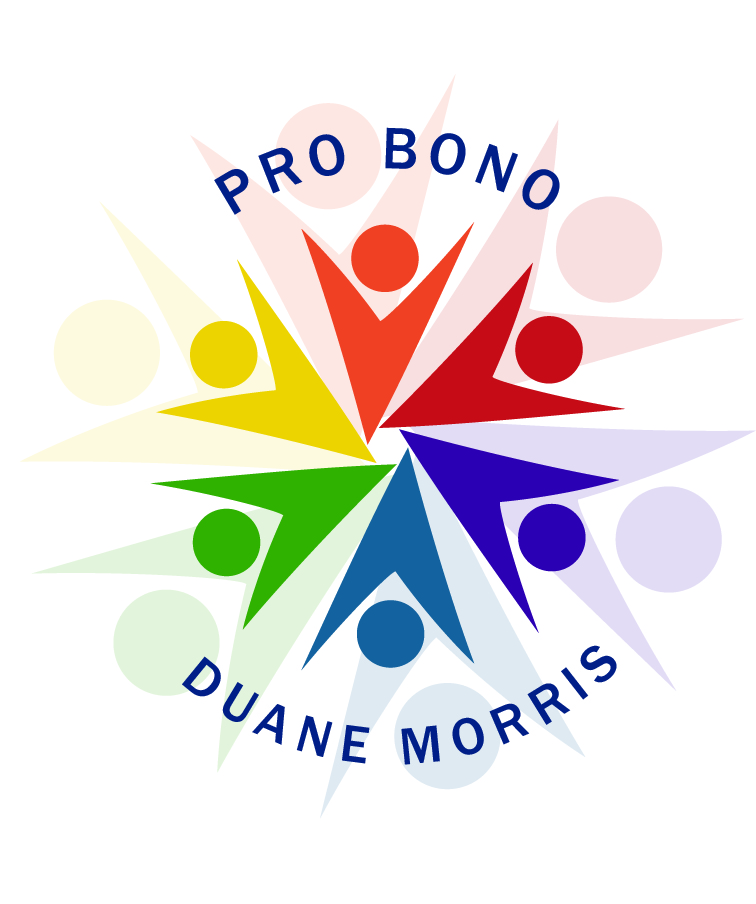 Pro bono service has been an integral part of Duane Morris' culture and the backbone of our value system since the firm's founding more than 110 years ago. In 2021, Duane Morris donated over 34,000 pro bono hours, averaging more than 40 hours per attorney.
Attorneys and staff provide extensive pro bono service in all 22 of our U.S. offices and many of our international offices. We have a dedicated three-person pro bono team that is responsible for recruiting and managing more than 1,200 pro bono matters, which range from U.S. Supreme Court amicus briefs and federal litigation, to local child advocacy and citizenship applications. Duane Morris has exceeded the Pro Bono Institute's Challenge of providing 3 percent of the firm's annual billable hours in pro bono matters since the firm signed the challenge in 2015. The firm gives all associates and special counsel 100 hours of credit annually and partners 50 hours of billable credit annually for their pro bono service. The firm's strategic plan also includes an expectation that all attorneys perform a minimum 20 pro bono hours annually.
Beyond the numbers, our stories demonstrate Duane Morris' dedication to improving access to justice for underserved communities, persons of limited means and low-income communities. For more information about the Pro Bono Program, please contact Valentine A. Brown or Katharyn Voit.
"Start where you are. Use what you have. Do what you can." ― Arthur Ashe
Access to Justice by the Numbers
34,000+ hours donated in 2021 and 390,242 hours donated to pro bono service over the past 15 years
40 average hours spent by each lawyer on pro bono matters
3,300-plus hours representing over 30 children in the dependency/foster care systems and survivors of intimate partner violence seeking safe and stable homes
2,000 hours representing 117 low-income entrepreneurs or inventors seeking assistance to start businesses, file for patents, hire their first employees or other growth matters
1,100+ pro bono clients during the past year.
5,400+ hours representing 225 immigrants seeking lawful status in the United States.
6,100+ hours representing over 250 nonprofits in corporate governance, tax and transactional matters.
1,430 hours representing 50+ individuals with criminal convictions seeking to prove their innocence, petition for pardon, or expungement of low-level criminal records.
1,680 hours representing 49 veterans applying for service related disability benefits or military discharge upgrades.
For more information about the Pro Bono Program, please contact Valentine A. Brown or Katharyn Voit.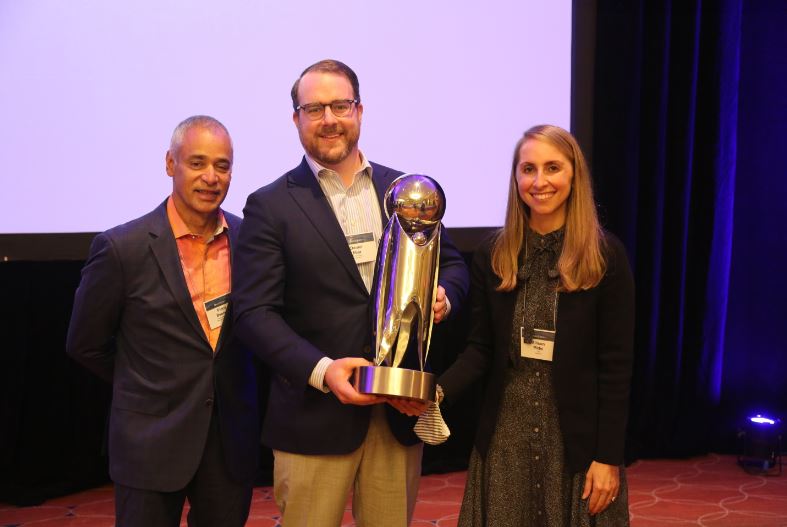 Pierre Georges Bonnefil, Daniel Mita and Allison Midei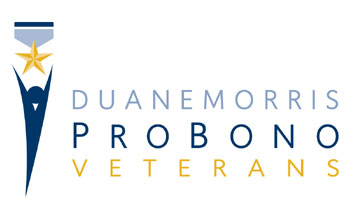 Veteran Success Stories
Our client, a Vietnam War veteran, witnessed horrific combat including surviving numerous bombings and the death of several friends, which resulted in post-traumatic stress disorder (although PTSD had yet to be diagnosed as a mental illness). After serving 11 months in Vietnam, our client's PTSD symptoms became so intense that he went absent without leave, resulting in a dishonorable discharged, the stigma of which haunted him for the past four decades. Before the Army Discharge Review Board, Duane Morris volunteers successfully petitioned for the client's discharge status to be upgraded to honorable both in equity and pursuant to Under Secretaries Hagel, Carson, Kurta and Wilkie's memorandums proscribing liberal consideration for discharge upgrades that were the result of undiagnosed PTSD.
---
Our client served in the U.S. Army for seven years, during which time she was assigned to rescue and recovery efforts following the crash of American Airlines flight 77 near the Pentagon on September 11, 2001. Her job was to log victims' body parts. Following her service, the client understandably began struggling with PTSD and major depressive disorder (MDD) while serving as a civilian employee for the Army. Her mental health diminished further after she was assaulted by an Army superior and became pregnant, and she had to stop working. Despite her service, our client initially was denied access to service-connected disability benefits because the VA incredulously lost the medical records documenting her PTSD and MDD. Appealing to the U.S. Court of Appeals for Veterans Claims, Duane Morris volunteer attorneys argued the Board of Veteran's Affairs failed to take reasonable efforts to obtain the veteran's medical records before denying her claim and remanded the claim to the VA for a rating decision. Duane Morris continues to represent the client before the board and VA.
---
Serving in the Pennsylvania National Guard, our client was deployed to Iraq for nine months, during which time he was stationed at a base outside the safe zone where he was in constant danger of incoming gunfire and IEDs and witnessed the death of a close friend. Our client struggled with PTSD, which years later still caused insomnia, nightmares, anger, thoughts of violence and depression, in addition to his lingering physical injuries from Iraq. Before his deployment, the client supervised a team of 700 employees at an inpatient medical center, but following his deployment he struggled to succeed and lost most of his responsibilities. Duane Morris attorneys successfully advocated for the client to obtain service-connected disability benefits at a 100 percent rating, which will permit him to focus on his mental and physical health.
$300,000 Awarded in Retroactive Veterans Benefits
Attorneys in Duane Morris' Philadelphia and Cherry Hill offices obtained retroactive VA benefits totaling more than $300,000 for a disabled veteran battling an acquired psychiatric disorder from active duty. The veteran was dishonorably discharged due to his illnesses and was homeless for over a decade. He tried and lost over 16 jobs due to mental health problems. During this time, he received a discharge upgrade and applied for service-connected disability benefits in 2009, which the VA denied.
Duane Morris then entered the case, successfully representing the veteran in appealing the denial before the U.S. Court of Appeals for Veterans Claims and securing a remand requiring appropriate medical evaluations and adequate reasons and basis for the VA's findings. In 2018, the client was awarded benefits and Total Disability based on Individual Unemployability (TDIU). Duane Morris attorneys then successfully argued to the Board of Veterans' Appeals that the benefits should be applied retroactively to 2009 when the client first sought benefits, a sum totaling more than $300,000.
Now doing much better healthwise, the veteran has a home and is able to assist his daughter with nursing school through his GI Bill benefits. Duane Morris continues to represent the veteran in seeking service-connected benefits for traumatic brain injury and a seizure disorder.
"Duane Morris is always at the ready to assist at pop-up clinics, the Winterhaven Veterans Homeless Stand Down pro bono clinic and new initiatives, such as a recent clinic specifically for women veterans. You are true partners in every sense of the word. TVC (The Veterans Consortium) knows we can always count on you and your desire to help veterans… Your commitment to justice for veterans and to our Veterans Pro Bono Legal Clinic makes it possible for us to provide a critical service to this underserved population in our community." — Jeff Janicke, TVC staff attorney
"I cannot thank my attorney enough. She did a phenomenal job in representing me. She and the firm has really helped my family a lot. We are really blessed by the benefits that we are receiving." — Antoine
Duane Morris recognizes the sacrifices that service members have made for our country and is committed to helping them solve significant problems that have arisen as a result of their service. We assist veterans and their families with disability benefits appeals, discharge upgrades, homelessness prevention and many other civil legal needs. Our attorneys also represent organizations dedicated to empowering military service members, veterans and veteran-owned small businesses.
Obtaining Back Relief, Literally and Financially
After serving in the United States Navy in the late 1970s/1980s, our client suffered chronic back pain that required a series of surgeries from 2008 to 2010, including spinal fusion. During the fusion surgery at a U.S. Department of Veterans Affairs Medical Center, screws were malpositioned bilaterally, which led to additional pain—worse than the veteran experienced prior—weakness on his left side, depression and several additional surgeries. Today, the veteran still experiences chronic pain.
As a result, in 2010, the veteran filed a claim for service-connected disability compensation benefits under 38 U.S.C. § 1151, which permits benefits when a veteran experiences a disability caused by surgical treatment in a VA Medical Center due to negligence. Nevertheless, from 2010 to 2019 the VA denied our client's claim.
Attorneys in Duane Morris' Philadelphia office entered the case, moving to reopen a prior denial, obtaining a medical expert report affirming the nexus between the surgery, subsequent revision surgeries and our client's total disability, and representing the veteran in an appeal to the Board of Veterans' Appeals. Attorneys also argued the veteran was secondarily entitled to benefits related to depression as it was caused by his living in constant, debilitating pain.
Following a multiyear effort, in summer 2019 the VA awarded our client benefits under § 1151 for residuals for his lumbar spine surgery as well as for adjustment disorder with mixed anxiety and depressed mood secondary to his lumbar spinal benefits. The team continues to advocate with the VA concerning the rating level for the veteran's injuries and monthly benefits as well as benefits dating back to 2010. Needless to say, the veteran's life will forever be changed due to the surgery, but now he also will have monthly compensation to cover his bills and living essentials.
Teaming Up to Create Legal Clinics at VA Medical Centers Across the Country
In 2018, Duane Morris attorneys launched a new medical-legal pro bono project providing legal assistance to veterans directly at the Atlanta VA Medical Center. Duane Morris attorneys teamed up with The Home Depot, Emory Law School and Atlanta Volunteer Lawyers Foundation to staff clinics providing estate planning/drafting for more than 70 veterans and family members. Volunteers also teamed up to co-counsel on veterans' service connected disability benefits appeals before the U.S. Court of Appeals for Veterans claims through The Veterans Consortium Pro Bono Program.
The Atlanta clinic built upon Duane Morris' success collaborating with the Veterans Administration, The Veterans Consortium Pro Bono Program and Neighborhood Legal Services in Washington, D.C., to develop and staff weekly legal clinics at the D.C. VA Medical Center and in facilities across the D.C. Metro area. The first legal clinics to specifically serve D.C. area veterans when launched in fall 2016, the clinic – now housed in its own office space at the VA Medical Center – has served over 700 veterans.
"Duane Morris has gone above and beyond the call of duty on behalf of our nation's defenders. The new legal information and referral pop-up clinics increase our outreach to veterans who need support for federal court appeals of VA denials, discharge upgrades and other challenges. … Duane Morris attorneys additionally have provided crucial assistance to TVC in helping former service men and women appeal unjustly received other than honorable discharges so they can once again call themselves veterans."
—Edmund Glabus, Executive Director, The Veterans Consortium Pro Bono Program
Righting Wrong for Woman Discharged Due to Pregnancy
Our client enlisted with the U.S. Marine Corps at 17 years old, serving as a dedicated, successful Marine for more than three years before she was forced to leave the Marines because she was pregnant. Upon learning she was pregnant with her second child, our client was told she was being involuntarily discharged because the Marines believed they could not deploy her due to being a single parent with two children. This discharge occurred during the months following the September 11, 2001, terrorist attacks, and our client had, in fact, made preparations for child care if she was deployed. But, our client's military records did not contain record that she was ever consulted about her child care plan.
In 2002, our client was discharged involuntarily with a characterization of "General (under honorable conditions)" and a narrative reason of "parenthood." As a result, she was denied a career in the Marines, prevented from securing some government jobs, denied access to certain veteran's benefits and felt deep embarrassment when she had to address her discharge characterization in professional or personal settings.
In the 14 years since being discharged, our client successfully raised her two children as a single mother. She is starting a Saturday school for students to learn about their African heritage and develop leadership skills.
Duane Morris attorneys successfully represented the client in a hearing before the Naval Discharge Review Board in Washington, D.C., advocating that the client's discharge was inequitable because she had no misconduct that warranted discharging her less than honorably. Her military record demonstrated she was qualified and deserving of an honorable discharge, and she was awarded accolades just months before her discharge, including the Good Conduct Medal and National Defense Service Medal. Our client's discharge status was upgraded to "Honorable," permitting the client to move forward with her life without undue stigma.
Settlement Reached for Veteran and Family Facing Eviction
Duane Morris reached a settlement in an eviction proceeding on behalf of a veteran who is a pro bono client of the firm through the Veterans Assistance Project. The veteran had been living with his wife and their three children in a rent-controlled apartment previously occupied by the wife's uncle. Overcoming challenging legal obstacles, the team negotiated a settlement that allows the family to remain in the apartment rent-free for six months, forgives substantial rent arrears that had accrued during the lengthy litigation, and provides a substantial lump sum payment.
Securing Housing and Financial Stability for Elderly Veteran
Our client, a Navy veteran, is 60 years old and has end stage renal disease. He lived in his mother's rent stabilized apartment on the Upper West Side of New York City, where he had resided for many years and planned to live out his remaining years. Reflecting the changing landscape of New York City, the client's landlord bought out several other tenants in the apartment with the goal to convert rent stabilized apartments to a privately owned cooperative. The landlord offered the client only $150,000 to move, much less than the apartment was worth. When our client refused, the landlord sought to evict our client from the home – where he had potential succession rights to his mother's lease – and the landlord trumped up nuisance and criminal allegations against our client.
Working with the Veteran Advocacy Project at the Urban Justice Center, Duane Morris attorneys obtained an order to show cause in the landlord's lockout proceeding, restoring the veteran to his home. Attorneys then negotiated a buyout settlement of $320,000, along with time to secure a new apartment. Collaborating with friend of the Firm, the attorneys set up a special needs trust so that the client would continue receiving his Social Security disability and rental benefits, thus ensuring ongoing financial stability for the client.
Service-Connected Disability Benefits Restored for U.S. Navy Veteran
Duane Morris obtained service-connected disability benefits for a veteran of the U.S. Navy after his disability rating was reduced in September 2012, from 80 percent to only 10 percent. The pro bono team presented to the Board of Veterans' Appeals that the reduction in the disability rating was improper, that the client was entitled to the benefits he did not receive when his disability rating was reduced, and that he was entitled to a total disability rating based off of unemployability. The team obtained $71,000 in back pay for the client from 2012, and he will again be receiving 80 percent disability.
The Veterans Consortium 2017 Law Firm Pro Bono Mission Partner
Duane Morris has been named The Veterans Consortium Pro Bono Program (TVC) 2017 Law Firm Pro Bono Mission Partner for its service to veterans and their families, caregivers and survivors. Duane Morris has worked with TVC for many years, providing pro bono representation to veterans at the U.S. Court of Appeals for Veterans Claims. In the fall of 2016, the firm worked with TVC and Neighborhood Legal Services Program (NLSP) to implement pop-up legal clinics at Veterans Affairs (VA) facilities in the D.C. Metro area, providing free advice to more than 200 veterans.
Protection under Chapter 7 of Bankruptcy Code for Vietnam Era Veteran
Duane Morris represented a pro bono client in filing for protection under Chapter 7 of the Bankruptcy Code. The client is an 83-year-old veteran who served in the Air Force between 1962-1964 before he was honorably discharged.
Securing Remands Before the U.S. Court of Appeals for Army Veterans Claims
Our client served as a petroleum supply sergeant in the U.S. Army. She was denied service-connected disability benefits after sustaining a painful skin disorder when extinguishing a bulk fuel fire. The client's primary responsibility was issuing and handling fuel for helicopters. She received an Army Commendation Medal while on active duty for quickly and calmly extinguishing a bulk fuel fire caused by a leak in the fuel pipeline on base, which could have caused major damage (and personnel injuries) if not for her prompt actions. Due to fuel spilling on the veteran, she experienced a disorder that manifested itself intermittently as swelling, knots or cysts on both of her hands that were periodically accompanied by pain and/or itching. The client filed a claim for service-connected disability benefits related to the skin disorder, which was denied for years because the VA physicians never "saw a rash" appear in any of her medical appointments. Firm attorneys discovered the client had been treated several times by the VA, including twice surgically, for painful knots and cysts on the back of her hands. Nevertheless, this evidence was ignored entirely by VA medical examiners, the VA Regional Office and the Board of Veterans' Appeals. The attorneys successfully argued this was a blatant failure of the VA's duty to assist the client in developing her claim, which was remanded requiring the VA to fully develop the claim so that our client may be awarded the disability benefits she deserves.

Uplifting Gardens & Artists: Helping Preserve the North Philly Peace Park for Future Generations
The North Philly Peace Park was founded in 2012 by residents of the Blumberg Housing Projects along with neighborhood residents, activists, designers, organizers and educators, who formed an ecological campus that sought to collectively solve many of the neighborhood's critical issues. In 2015, the park was displaced by a Philadelphia Housing Authority (PHA) development, resulting in the Peace Park's move to a new location in 2017.
Following the move, Duane Morris real estate attorneys were engaged pro bono to represent the Culture Trust of Greater Philadelphia in the creation of the new North Philly Peace Park. Duane Morris negotiated with PHA to give the new property to our clients to build the park and worked with community partners from the University of Pennsylvania School of Design, Diverse Design, Habitat for Humanity, Haverford College and Youth Build to build an off-grid facility to further complement the Peace Park's programs and serve as a proof of concept/model for equitable design practice. Attorneys worked as land-use lawyers, transactional lawyers, construction lawyers and more to secure approvals from the federal Department of Housing and Urban Development, Philadelphia Streets Department, Art Commission, Flood Zone Management and Board of Building Standards, in addition to the PHA.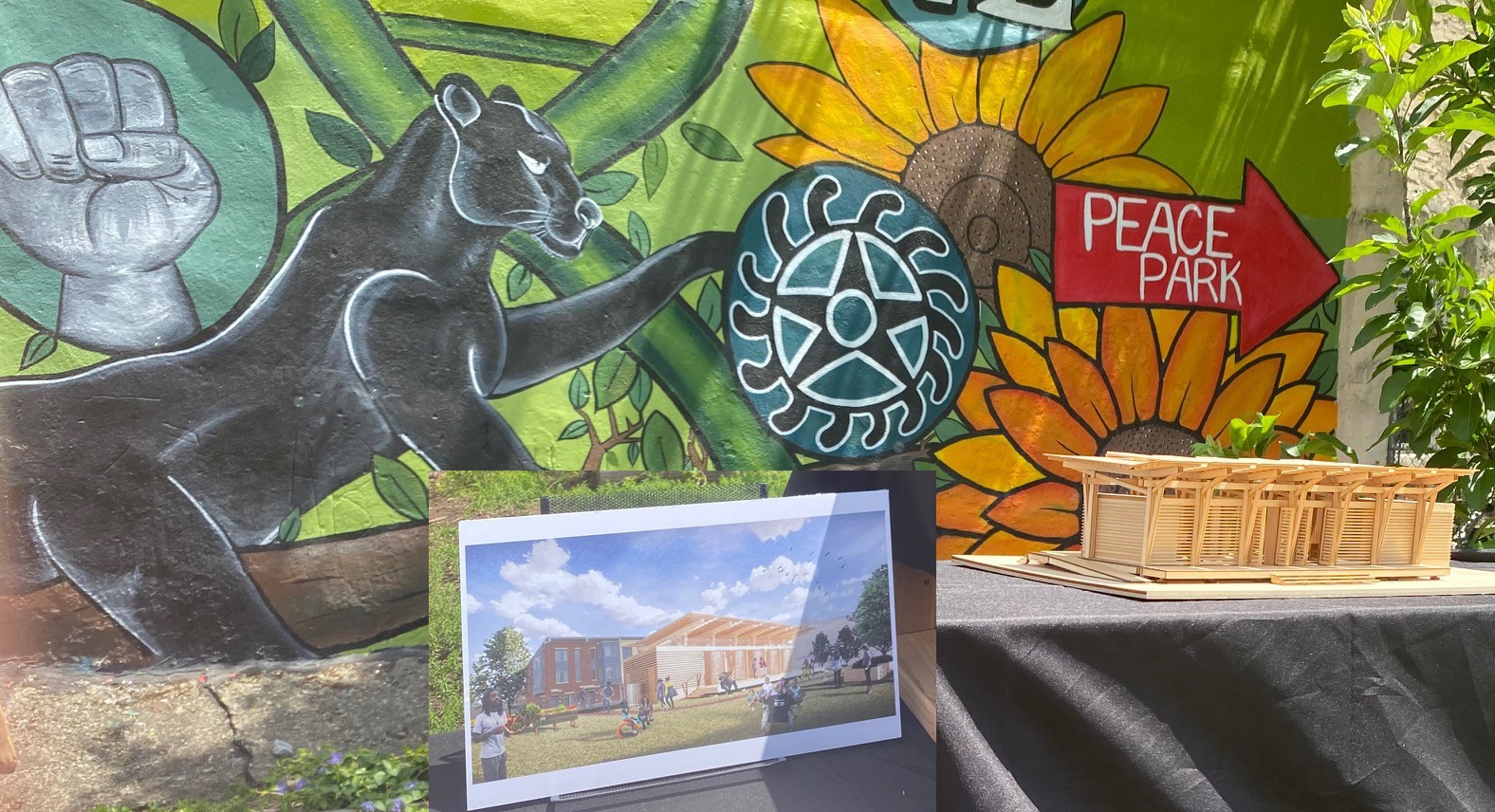 The Peace Park's pavilion is designed in an Afro-futurist approach that merges and highlights continuities between ancient African architecture from countries of the western coast of the continent and modern African American architecture typologies. The building's green systems and structure complement support the programs that occur outside seamlessly.
Facilitating Photographic Education Worldwide: A Legacy Ensured
The late Stanley Greene was an icon in France as well as the rest of Europe and Asia. While born in Brooklyn, his work is not yet very well known in the United States. He was one of the most influential human rights and war photographers of the last 50 years, and one of the very few influential Black photojournalists, recording the fall of the Berlin Wall as well as war and famine in South Sudan, Chechnya, Georgia, Iraq, Afghanistan and more. He also founded Noor Images, a significant photographer-owned agency in Amsterdam.
Following Greene's death, Duane Morris attorneys worked with his estate to donate Greene's photographs to the French Ministry of Culture through the Stanley Greene Foundation, a United States foundation formed pro bono by Duane Morris attorneys. Greene's photographs will be indexed and used for education worldwide, including exhibitions in France and elsewhere in Europe. The foundation will retain all rights to produce prints of Greene's work, raising funds to support arts education for underserved youths.
"[T]he inseparable twin of racial injustice is economic injustice." – Rev. Dr. Martin Luther King Jr.
Empowering Through Education
Folds of Honor provides educational scholarships to children and spouses of fallen and disabled service-members across the United States. A generational foundation dedicated to giving back to the families of our nation's heroes, Folds of Honor has granted more than 35,000 scholarships since 2007, with 6,500 of those coming in 2021-2022 alone. Duane Morris provides organizational diversity and inclusion training to Folds of Honor as well as providing corporate advice and diversity and inclusion training to individual foundation chapters.
Advocating for Asian American Pacific Islander Women
In 2021, a team of Duane Morris litigators across the United States represented Asian Americans Advancing Justice (AAJC), the National Asian Pacific American Women's Forum and 30-plus additional groups as amicus curiae before the Supreme Court of the United States in Dobbs v. Jackson Women's Health Organization, urging the Supreme Court to uphold women's constitutional right to pre-viability abortion. Highlighting the intersectional experiences of Asian America Pacific Islander (AAPI) women, the fastest growing racial group in the United States, particularly in Southern and rural areas, the brief illustrates the language, immigration and economic barriers AAPI women already face when seeking to access their constitutional right to reproductive healthcare. Amici illustrated the disproportionate, undue impact an adverse ruling would have on AAPI women and other communities of color's access to abortion and reproductive healthcare. Amici urged the Court to adopt an intersectional lens in considering the importance of achieving reproductive justice for AAPI women and all women by upholding a woman's right to choose.
In addition, a team of Duane Morris healthcare and appellate attorneys represented medical professionals across the commonwealth of Pennsylvania as amicus curiae before the Pennsylvania Supreme Court in Allegheny Reproductive Health Center v. Pennsylvania Department of Human Services, arguing that the commonwealth's prohibition on Medicaid funding of abortion violates the Equal Rights Amendment and equal protection provision of the Pennsylvania Constitution, and it prevents women from receiving critical medical care. Amici urge the court to permit petitioners third-party standing on behalf of their patients as their interests are directly aligned.
Bay Area Rescue Mission (California)
Serving the Bay Area homeless, the Bay Area Rescue Mission provides hot meals, a food pantry, shelter and other services to help individuals focus on long-term recovery. Attorneys in Duane Morris' San Francisco office provide employment advice to the Rescue Mission as well as real estate and COVID-19-related legal assistance.
Interfaith Food Pantry of the Oranges (New Jersey)
A "client choice" food pantry providing supplemental and emergency food, diapers and toiletries for more than 25 years, Interfaith Food Pantry of the Oranges (IFPO) primarily assists residents of Orange and East Orange, New Jersey, via an all-volunteer, collaborative effort of four religious congregations—Christ Church in Short Hills, Congregation Beth El, Congregation B'nai Jeshurun and Temple Sharey Tefilo-Israel. Over the years, Duane Morris attorneys have assisted IFPO with corporate governance, intellectual property, publicity waivers and employment/volunteer and tax advice. During COVID-19, when the church where IFPO operated closed, Duane Morris attorneys helped negotiate a new lease and space for the pantry to continue operations.
SouperBowl of Caring (Texas)
SouperBowl of Caring is a youth-inspired movement working across the nation to tackle hunger in local communities. Mobilizing grassroots resources including churches, schools, civic groups and caring individuals, the SouperBowl of Caring movement has created over $160 million worth of support that stays completely local. In 2020, thousands of groups collected over $10.6 million in monetary and food donations for hunger-relief charities across the country. Attorneys in Duane Morris' Houston office aided SouperBowl of Caring with trademark and intellectual property matters.
Duane Morris plays a vital role in strengthening the communities in which Firm employees live and work. To expand access to justice, Duane Morris collaborates with numerous legal services organizations and other community-based nonprofits to support community building efforts and provide pro bono legal representation. Our representation includes matters involving domestic violence, housing, guardianship, disability benefits, landlord-tenant, nonprofit incorporation, governance, protection of intellectual property, tax-exempt status and many other criminal and civil legal matters.
Envisioning Global Brotherhood and Sisterhood as the State of Humankind
Founded by Mrs. Coretta Scott King, The Martin Luther King Jr. Center for Nonviolent Social Change ("The King Center") prepares global citizens to create a more just, humane and peaceful world using Dr. King's nonviolent philosophy and methodology. Utilizing the life, legacy and teachings of Dr. King, The King Center inspires new generations to carry forward his unfinished work, in addition to preserving and providing access to the writings and papers of Dr. King, the Southern Christian Leadership Conference and other civil rights leaders and organizations. Duane Morris attorneys support The King Center, thereby supporting the advancement of civil rights globally, by advising the Center on numerous legal issues, including the conveyance of the birth home of Dr. King to the National Park Foundation, the renovation of the Reflecting Pool and Crypt of Dr. King and Mrs. Coretta Scott King, and maintenance of the digital archives of Dr. King's writing and artifacts.
Uniting Communities with Pizza
Scott Wiener's love of pizza—particularly cultural and regional differences—led him to create Scott's Pizza Tours (New York). What began with friends in his car driving around New Jersey and New York led to renting out a bus and quickly transformed into an entrepreneurial business. Recognizing that treating food as entertainment is a luxury too many people cannot afford, Scott soon hosted the first annual Slice Out Hunger party. A simple idea, Scott uses food donated from independent pizzerias to raise money for local food banks and pantries with proven track records. Since New York City isn't the only community that could benefit from Slice Out Hunger events, Duane Morris attorneys are aiding Scott and Slice Out Hunger in their next venture: helping communities run Slice Out Hunger events on their own, as well as implement effective campaigns to raise funds and awareness for neighbors in need. Scott's goal is to spread the message: Pizza has the power to unite and support communities.
Saving a Juice Bar in Harlem
Elma's in Harlem dishes out mouthwatering West Indian cuisine and soul food in a fun, friendly atmosphere. Owner Jimmie began saving money in high school with the goal of owning his own restaurant and feeding the neighborhood just as his grandmother, Elma, brought people together through food. After investing all his personal savings into opening a juice bar, the landlord refused to turn on the water for several months, causing Jimmie to lose profits and stalling operations. Duane Morris attorneys assisted Jimmie in obtaining a judgment from New York Civil Court for the full amount of damages Jimmie endured as a result of the landlord's actions. Now Jimmie is moving forward serving his local community and enhancing the lives of people that make up his culturally rich section of the city.
Jimmie was introduced to Duane Morris by colleagues at Start Small Think Big (New York), which connects immigrant and traditionally underserved/unbanked small-business owners with legal and financial representation.
Supporting Celiac Disease Awareness
Celiac disease affects an estimated one in 133 Americans. Over a decade ago, Beyond Celiac (nationwide) was founded as a small patient advocacy group, the National Foundation for Celiac Awareness (NFCA), with the goal of creating a world where people with celiac disease can be quickly diagnosed, eat safely and live their lives to the fullest. Today, Beyond Celiac has grown into a leading organization impacting more than 2 million people by driving awareness and diagnosis of celiac disease. Along the way, Duane Morris attorneys have provided valuable intellectual property representation to Beyond Celiac ensuring its information, ideas and brand are protected so Beyond Celiac may focus on the mission of finding a cure for the disease.
Building Homes with Habitat for Humanity, Power Women Power Tools
Duane Morris has represented Habitat for Humanity of Greater Los Angeles pro bono for several years in negotiating real estate transactions for land parcels where Habitat will build affordable housing for low-income families. Duane Morris attorneys and staff additionally teamed up with Habitat L.A. families to frame buildings that will house 10 families in Habitat L.A.'s new Culver City project, the first affordable homeownership development in the city's history.
"The Future Ain't What It Used To Be."
Generations know Yogi Berra as one of the greatest baseball players to ever play in the major leagues, but fewer people know the stories of Yogi's principled life, including his service in World War II and his dedication to family and diversity. The Yogi Berra Museum & Learning Center (New Jersey) works to sustain and promote the values of respect, perseverance, sportsmanship and excellence through inclusive, culturally diverse sports-based educational exhibits and programs, thus keeping Yogi's legacy alive for new generations of leaders. Duane Morris supports Yogi's mission by representing the museum pro bono in restructuring the museum's board and bylaws, negotiating and reviewing contracts, and securing its intellectual property, among other matters. Firm attorneys also provided legal advice to veterans and military families during the museum's veteran service fair.

Restoring Dignity for a Survivor
Our client was trafficked for six years by three different pimps. Her first trafficker lured her into the life as a young woman, promising riches and a singing career. Instead, he groomed her for the life, trafficking and sexually exploiting her for his commercial gain. As a result, she incurred multiple criminal convictions in three different states for crimes that were the direct result of her being trafficked. Eventually, our client became pregnant and had a son. A pimp kept trafficking her and she was arrested again, but this time was different. She had a son, and she did not want to lose custody of him. Following her arrest, she took her son and fled, never going back, not even to get their belongings.
In the over 10 years since she fled, our client has attended college, gotten married, become a stepmom and opened her own business with her husband. While our client's life is a success, her criminal convictions have limited her employment options and opportunities to volunteer at her children's schools.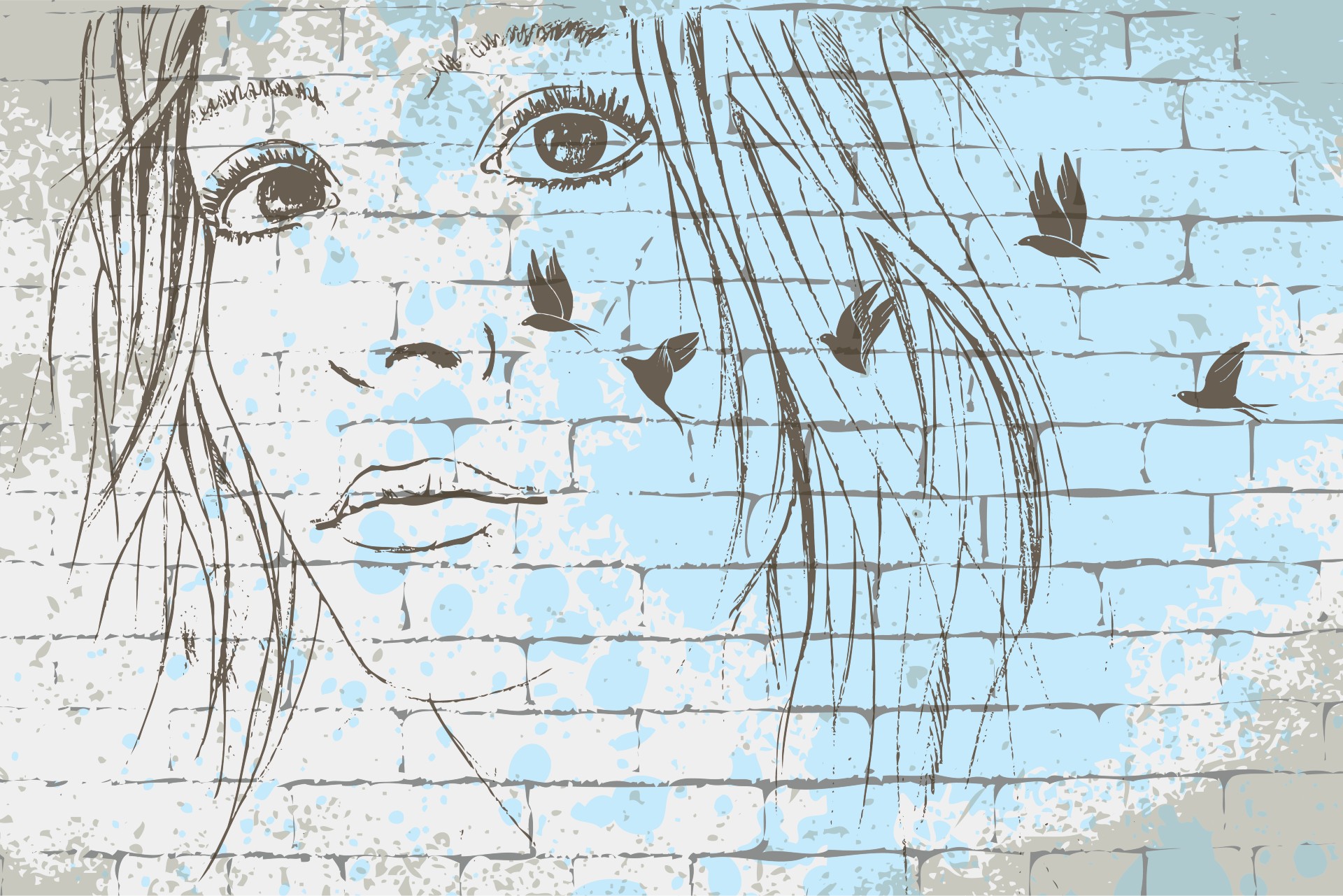 In 2021, Duane Morris attorneys in multiple offices―in conjunction with Freedom Network USA's Survivor Reentry Project―helped our client petition to vacate her crimes as the survivor of sexual trafficking in California and Pennsylvania, with cases still pending in Nevada. Soon, we hope she will rise with only the sky as her limit as she pursues her passions and goals without being hampered by the trafficking of which she was a victim and for which she never should have been criminalized.
The Survivor Reentry Project (SRP) focuses on criminal-record relief for survivors of human trafficking by building sustainable post-conviction representation practices across the country. The project offers national training and technical assistance on vacatur, expungement, sealing and other criminal record remedies for trafficking survivors. During two months of every year, Duane Morris attorneys conduct SRP intakes nationwide and utilize the firm's national footprint to collaborate and help clients vacate convictions state-by-state across the country in each of Duane Morris' office jurisdictions.
Increasing Access to Representation for Survivors of Domestic Violence and Trafficking
In 2016, Philadelphia-area immigration legal service providers lost funding used to aid survivors of intimate partner violence who were not also survivors of sexual assault, creating a huge gap in legal services. Teaming up with Congreso de Latinos Unidos—a North Philadelphia social service agency providing bilingual counseling to survivors of intimate partner violence who are mostly Latina women and live in under-resourced communities—Duane Morris attorneys and staff built upon a prior project with HIAS Pennsylvania to hold a monthly legal clinic at Congreso's counseling center. Attorneys and staff volunteers meet with clients in their native language to discuss immigration questions and possible avenues for relief.
In 2020, the pandemic exacerbated intimate partner violence, as people were forced to stay home with abusers, and immigrant clients reported increasing fears of reporting abuse to the police given anti-immigrant rhetoric and increased immigration enforcement. Duane Morris pivoted our legal clinic online, increasing our representation of survivors in protection from abuse orders, divorce, housing and immigration actions even amid the pandemic.
To date, Duane Morris has donated over 3,500 pro bono hours, conducting approximately 100 intakes and helping more than 40 Philadelphians stabilize their immigration statuses.
"Love is what Duane Morris has shown to me." ― Mercedes
Duane Morris salutes the indomitable human spirit. Recognizing the need for new beginnings, clean slates and renewed hope, our attorneys provide thousands of pro bono hours to survivors of human trafficking and victims who were exploited and wrongfully convicted. We are humbled and inspired by the strength of our clients and the depth of their resiliency in spite of daunting circumstances.
Removal Order Terminated for Trafficking Survivor After Criminal Convictions Vacated
A team vacated a pro bono client's trafficking related criminal convictions in summer 2017. The convictions had resulted in immigration removal proceedings, and last week, the Erie County Bar Association Volunteer Lawyers Project, Inc. successfully petitioned to re-open and terminate the client's immigration case. The client now is awaiting her permanent green card and is applying for U.S. Citizenship; she was a lawful permanent resident in the U.S. throughout her trafficking and for almost 20 years.
Illinois Survivor Becomes National Leader
Trafficked, beaten and subject to unimaginable emotional abuse for more than 20 years, our client escaped in 1997 and dedicated her life to helping others escape similar circumstances. She founded the Dreamcatcher Foundation, a nonprofit organization serving Chicago girls impacted by the sex trade, worked with the Cook County Sheriff's Office to provide desperately needed services to trafficked girls and women and won numerous awards for her work. Nevertheless, our client's prostitution convictions kept her from achieving further goals, including becoming an adoptive parent, working with at-risk youth and opening a crisis center for her organization.
Working in conjunction with the Chicago Alliance Against Sexual Exploitation (CAASE), Duane Morris attorneys assisted the client in expunging her criminal convictions under the Illinois Justice for Victims of Sex Crimes Trafficking Act. The Act allows state courts to vacate prostitution-related convictions if the petitioner can show they were a victim of trafficking at the time of the conviction.
Pro Bono Partner – CAASE
Chicago Alliance Against Sexual Exploitation (CAASE) envisions a community free from all forms of sexual exploitation, including sexual assault and the commercial sex trade. CAASE addresses the culture, institutions and individuals that perpetrate, profit from, or support sexual exploitation. The organization's work includes prevention, policy reform, community engagement and legal services.
Highlights of Duane Morris' work with CAASE:
Currently helping eight trafficking victims vacate their criminal convictions for prostitution
Honored with the 2015 Pro Bono Superstar Firm Award
Expanding Legal Protections for Victims of Trafficking
Collaborating with the Chicago Alliance Against Sexual Exploitation (CAASE), Duane Morris attorneys helped expand the types of convictions that may be vacated under Illinois' Justice for Victims of Sex Trafficking Crimes Act. In addition to successfully vacating prostitution convictions relating to our client's trafficking, Duane Morris attorneys argued that the Act should be construed to permit vacatur of other convictions that were the direct result of a survivor's trafficking. In doing so, Duane Morris attorneys helped set a precedent in Illinois, which will aid many more survivors to vacate convictions from their criminal records wherein they really were the victim, not the criminal.
"Culture eats strategy for breakfast." ― Peter Drucker
Duane Morris Alumni Give Back formally connects, activates and encourages alumni globally to team up with current firm attorneys through its Pro Bono Program, including attending public interest CLEs and legal clinic volunteer opportunities.
A Third Act: From Big Law in Times Square to Housing Advocate at Legal Aid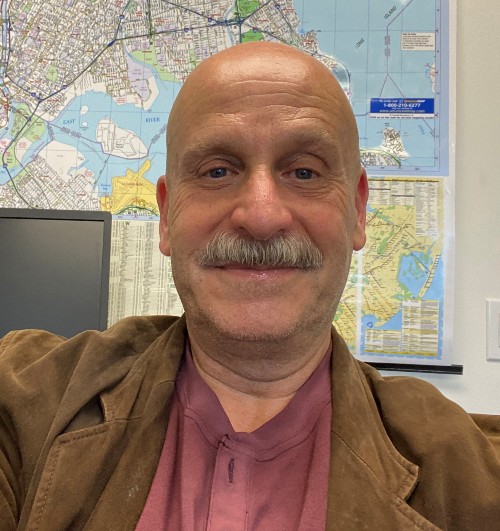 Larry Fox was a trial partner in Duane Morris' New York office from September 2015 through December 2019, following long stints as a commercial litigator at two other New York firms. After intensive involvement in Duane Morris' Pro Bono Program, Fox joined the Bronx office of the Legal Aid Society in February 2020. As a staff attorney in the housing practice, Fox represents low income tenants, mostly seniors, in eviction and repairs cases in Bronx Housing Court and counsels low-income tenants generally on landlord/tenant and related benefits issues.
Tell us, how did your pro bono experience lead to a career change?
In 2018, my then-client, Mount Sinai Health System, was expanding its medical-legal partnership for low-income patients at its hospitals and asked Duane Morris to start a legal clinic at Mount Sinai's hospital in Astoria, Queens. With the firm's support, we started a weekly clinic and, with substantive help from Kat McGee and full-time public interest lawyers, I began handling and overseeing cases in housing, public benefits, immigration and guardianships. I loved the work and began thinking about doing it full-time as the final chapter of my career. I channeled my energy and new public interest contacts into applying for a staff attorney job at the Legal Aid Society. It has been a fantastic experience despite the pandemic, and I am deeply grateful to the firm and Pro Bono Program for the opportunities that led to this fulfilling late-career change. It never would have happened without their support.
Why focus on landlord/tenant and housing law?
Decent, stable housing is fundamental to human security and key to maintaining important aspects of life: employment, family relationships, medical care, mental health, education, community ties and others. Eviction and its consequences are traumatic and debilitating for individuals and families. So, I thought eviction prevention would be an area in which I could be of real use. Also, with the advent of a right-to-counsel in Housing Court in New York, housing is where the most funding and jobs are at present. Because housing practice involves court-based litigation, it allows me to apply skills and instincts I developed over my career as a commercial litigator. Low-income housing practice often also requires assisting clients in accessing public benefits and may involve matters of family law, domestic violence, elder abuse, immigration, guardianships and other areas that interest me.
Describe the experience of changing careers during the pandemic.
It has been very interesting, refreshing and also humbling to start over in an entirely new area of law and practice. And it has been gratifying to feel that I now represent people who badly need an advocate. Because of the partial eviction moratoria and other protections in place since the beginning of the pandemic, the threat of eviction and the attendant stresses of tenant-side housing practice have been muted during this time. Our office has been closed and the Housing Court has been operating with virtual appearances for almost the entire time I have been at Legal Aid. I very much enjoyed my many years in private practice, including my time at Duane Morris, and I miss some of its pleasures and challenges. But, being a front-line tenant advocate is fun and satisfying in a different way, and I am delighted to be finishing off my career at Legal Aid.
What would you say to other attorneys about incorporating access to justice/pro bono into their careers?
Duane Morris' superb Pro Bono Program offers a wide variety of opportunities to suit any interest or schedule. For younger attorneys, pro bono is a chance to have more client contact and take on more responsibility than would otherwise be available. For more senior attorneys, it is a chance to have a different kind of professional experience and do some public good with their talents. An important aspect of my work now is to have normalizing interactions with low-income people and communities of color that were not part of my private practice. Pro bono provides opportunities for these kinds of valuable contacts and relationships.
Language of Law and Life: Using Long-Held Skills to Help Those in Need Today
Michael Butterman served with the U.S. Department of State - Agency for International Development in Brazil and Bolivia as well as Latin American counsel of Xerox Corporation in the 1960-70s. Formally retiring from Duane Morris in 2014, during the past six years, Butterman has put his Spanish language and legal skills to use in a different capacity—providing pro bono representation to numerous Latin American immigrant survivors of gender-based and domestic violence seeking safety and stability in the United States. Since 2015, Butterman has provided over 1,300 pro bono hours to immigrants in matters from asylum to Violence Against Women Act and United States citizenship.
In one recent case, Butterman helped his client obtain asylum in the U.S. after she fled decades of horrific domestic violence in Nicaragua, which was perpetrated by her partner―a vicious and dangerous alcoholic— and permitted by local police and authorities because of her partner's prominent, political family. Butterman secured asylum for our client, also petitioning for the client's sons―whom she left in the care of family and had not seen for four years—as derivatives.
In early 2020, Butterman got visas for the sons, allowing them to come to the U.S. and live in safety with their mother. Then, COVID-19 hit. Several months and three canceled flights later, Butterman negotiated with the U.S. consulate in Nicaragua to help the children fly to the U.S. Very fittingly, on July 3, the sons—now 22 and 16 years old—were reunited with their mother. Now, all three will be able to live a life of safety in the U.S. and pursue the "American dream."
"We aren't passengers on Spaceship Earth, we're the crew. We aren't residents on this planet, we're citizens. The difference in both cases is responsibility."—Apollo Astronaut Rusty Schweickart, best known as the first to pilot the Lunar Module
Duane Morris responds to the call for responsible business practices through pro bono efforts increasing equal access to justice in our communities. Duane Morris Alumni Give Back, a pro bono initiative, formally aligns, activates and encourages alumni to team up with current Firm attorneys through its Pro Bono Program.
Duane Morris proudly sponsors regular pro bono clinics throughout our offices focusing on diverse matters, including:
Medical legal partnerships at several Veterans Administration medical centers;
U.S. naturalization screenings and application preparation clinics;
Will drafting and advanced planning clinics for individuals with terminal illnesses, veterans and more; and
Office hours for various court-sponsored self-help programs, entrepreneur and inventor clinics, and many more.
The Firm also distributes information on time-limited, emergent pro bono opportunities, such as telephone-based FEMA and civil legal advice for victims of natural disasters. Training opportunities and manuals are available to all new volunteers.
Spotlight On: Pro Bono Partnerships
An attorney with Duane Morris for nearly 20 years after joining the firm as a summer associate, Steve Janove began his own firm in 2002 focusing on domestic relations, criminal defense, commercial litigation and corporate investigations. He has been an active member and volunteer for decades through his synagogue, Congregation M'kor Shalom, in Cherry Hill, New Jersey. During the past several years, as he has looked toward a third act in retirement, Steve has become an active immigration pro bono attorney representing lawful permanent residents applying to naturalize as U.S. citizens through Duane Morris' pro bono clinics with the Hebrew Immigrant Aid Society (HIAS) Pennsylvania.
Peace of Mind for Healthcare Heroes
In early spring 2020, attorneys collaborated with legal aid organizations in Philadelphia, New Jersey and New York to create a Wills for Frontline Heroes Remote Pro Bono Clinic. Attorneys and paralegals drafted simple wills and advance planning documents for healthcare and other essential personnel combatting COVID-19 on the front line. An ongoing project, please reach out if you know someone serving on the front line who could use assistance and peace of mind.
Helping Nonprofits Weather an Unexpected Storm

Attorneys in offices across the United States donated many hours advising nonprofits and small businesses on the CARES Act and Paycheck Protection Program, leasing and real estate, employment and other issues as their operations were impacted by COVID-19.
Pizza vs. Pandemic
If you ever have experienced one of Scott Wiener's New York City pizza tours, you will know the joy and ingenuity that make the Big Apple one of a kind. Founded by the self-proclaimed pizza nerd, Wiener's "Scott's Pizza Tours" will introduce you to the city's storied pizza culture, teach you about the science of pizza and support local, independent pizzerias. Several years ago, Wiener launched Slice Out Hunger, a nonprofit producing pizza-related events and campaigns to support American hunger relief and prevention initiatives. A pro bono client of Duane Morris for several years, attorneys in various practice groups have advised Wiener on tax, trademark and corporate issues as he builds Slice Out Hunger.
During the pandemic, Wiener and team shifted Slice Out Hunger to Pizza vs. Pandemic, a campaign to feed front-line care workers by coordinating large orders with independent pizzerias. Through their website and word of mouth, Pizza vs Pandemic identifies care workers—hospitals, clinics, shelters, etc.—in need, finds a nearby independent pizzeria, ensures the pizzeria can accommodate the care center's needs and places the order using donated funds. This past spring, Duane Morris attorneys and staff happily raised money to support Pizza vs Pandemic, teamed up with Wiener to donate pizza to various firm clients, and even took a few pizza-making classes with Wiener himself.
In collaboration with Duane Morris' COVID-19 Strategy Team, the Pro Bono Program led firmwide fundraising efforts to support first responders by providing food and PPE donations. The firm's Meals for Healthcare Heroes initiative utilized donations from Duane Morris attorneys and staff to provide meals to more than 20,000 medical professionals at facilities across the United States.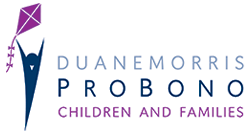 Nationally, there is less than one civil legal aid attorney to help every 10,000 Americans living in poverty. Children are the most legally underrepresented and vulnerable members of society. In the United States, 21 percent—or one in five—children live in families with incomes at or below the federal poverty guidelines. Ensuring family unity and stability for children and families through all types of legal proceedings has been a hallmark of the Duane Morris Pro Bono Program since its founding.
Good Nights and Good Days
Every night in America, too many children do not get the sleep they need, compromising their health, school performance and emotional well-being. Founded in New York City, Pajama Program provides cozy pajamas, inspiring storybooks and critical resources for parents and caregivers to support comforting bedtime routines and healthy sleep for all children to help them thrive. Duane Morris continues to show its support of Pajama Program, volunteering time not only to share stories with children, but providing legal counsel as well. In 2020, Duane Morris corporate attorneys represented Pajama Program in its acquisition of another nonprofit, helping expand Pajama Program's mission to provide good nights across the United States. Duane Morris intellectual property attorneys also represented Pajama Program in working with Tish Rabe Books LLC—owned by bestselling children's author Tish Rabe, who has written over 170 children's books for Sesame Street, Disney, Dr. Seuss and many more—on a forthcoming book, Sweet Dreams Ahead Time for Bed, published in April 2021.
Creating a Pediatric Telemedicine Program for Children Living in Conflict Zones
Armed conflict affects one in 10 children globally, with urban areas increasingly becoming direct targets, producing large numbers of casualties that outstrip the ability of local healthcare workers to provide the required care. In areas without adequate healthcare infrastructure, it is rare to find a doctor or psychologist trained in pediatrics, and lives are lost due to a lack of expertise. Imagine, instead, if a global network of pediatric specialists could be "brought" to a besieged or remote area in the time it takes to download an app. Enter Save A Child Global Pediatric Network, which aims to do just that. Save A Child combines pediatric expertise with digital technology to create a mobile case management and referral platform that can help save the lives of sick and injured children across the globe. Duane Morris corporate attorneys advised Save A Child regarding its corporate structure and governance as well as general advice on the telemedicine program, specifically concerning compliance with data security and privacy laws.
Girls Write Now
For more than 20 years, Girls Write Now has been a nationally respected leader in arts education as New York's first and only writing and mentoring organization for girls. Girls Write Now matches underserved teens—over 90 percent of color, 90 percent high need, 75 percent immigrant or first generation and 25 percent LGBTQ/gender nonconforming—with professional writers and digital media makers as their personal mentors. Mentees' multigenre, multimedia work is published in outlets, including Teen Vogue, BuzzFeed and The New York Times, performed at Lincoln Center and the United Nations and wins hundreds of writing awards. Girls Write Now ranks in the top 4 percent of programs nationwide for outstanding performance driving social-emotional growth for youth, and 100 percent of its seniors are accepted to college—armed with confidence, portfolios and life-long bonds. Through Girls Write Now's Writing Works workforce development program, they prepare young adults as skilled communicators and competitive candidates, creating a diverse pipeline into the schools and industries most in need of their talents. Duane Morris attorneys have assisted Girls Write Now pro bono for several years concerning intellectual property matters, and recently, began providing employment and real estate legal counsel to Girls Write Now to ensure more girls and gender nonconforming youth have access to high quality educational and mentoring opportunities.
Nido de Esperanza
Founded by Duane Morris client Holly Fogle, Nido de Esperanza strives to break the cycle of poverty by changing the first 1,000 days of a child's life. Nido takes a holistic, two-generation approach through early, intensive, culturally sensitive, community-based and parent-led interventions. Nido partners with a child's parent(s) to provide diapers, food, clothes, parent education and community. Families join Nido's weekly mommy-and-me group sessions, the Reading Corner, English language classes, trauma-informed yoga classes and more. In 2020, Duane Morris teamed up with Fogle and Nido to provide immigration and landlord/tenant know your rights presentations and legal representation to families, in addition to donating books and other supplies.
Father and Son Reunited Following International Child Kidnapping
Attorneys in Duane Morris' Austin office represented a Mexican father in successfully petitioning the U.S. District Court for the Western District of Texas for the return of his 5-year-old son under the U.N. Hague Convention on Civil Aspects of International Child Abduction. With no warning, the child's mother took the sleeping boy in the middle of a December 2018 night without our client's knowledge or consent and left the familial, habitual home and country. Unaware of their whereabouts, two months later, our client learned the mother and son had entered the United States. During the ensuing six months, our client sporadically was able to talk to his son, and he pled with the mother to return his son to Mexico, which she refused. As a result, he reached out to the Mexican and U.S. governments, seeking their help in the return of his son.
Upon filing for injunctive and full relief, Duane Morris moved for expedited discovery and sought permission for our client and witnesses to appear by phone or videoconference in Mexico, given the ongoing COVID-19 crisis. This appearance – and the representation generally – was difficult as the client lives in a remote, rural part of Mexico with little access to internet or other technology. Following a consolidated injunction and merits hearing – during which the mother attempted to relitigate a settled, Mexican custody order – and supplemental briefing opposing the mother's claimed "grave risk" defense, the judge found in favor of our client and ordered the son's return to his father in Mexico once safe due to COVID-19.
Supporting All Young People, Regardless of Sexual Orientation or Identity, via Safe Support Environments
Hetrick-Martin Institute (HMI), the nation's oldest and largest LGBTQ youth services agency, fosters healthy youth development through a comprehensive package of direct services and referrals concerning education, healthcare, mental health, homelessness, economic empowerment and more. Duane Morris is proud to support HMI and its mission, and our attorneys have assisted HMI pro bono on numerous legal and regulatory issues, such as updating its employee handbook, negotiating and drafting a cause marketing agreement with a worldwide cosmetic company, and drafting legal documents for licensing its intellectual property, know-how and services to its first federated partner, HMI: New Jersey.
Protecting Seniors Against Elder Financial Exploitation and Abuse
Teaming up with SeniorLAW Center and AARP, Duane Morris attorneys are helping draft a protection-from-elder-abuse statute in Pennsylvania. Older victims often are confronted with elder financial, emotional and physical abuse, yet Pennsylvania's current protection-from-abuse order was created largely to address intimate-partner violence, dating violence and/or stalking. Elder abuse victims face distinct crimes, including financial exploitation, often by different relative, nonrelative and caregiver perpetrators not covered by traditional protection-from-abuse orders. To date, only a handful of states have protection-from-abuse orders specifically protecting against the various forms of elder abuse. Attorneys drafted a model proposed statue designed to address the most common issues confronting older victims and are working with SeniorLAW Center, stakeholders, the Pennsylvania Legislature and Governor Wolf's administration to advance its adoption.
Securing Grandparent Guardianship and Visitation Rights in Massachusetts
Several years ago, a team of attorneys obtained a judgement from the Massachusetts Supreme Judicial Court holding that grandparents have legal standing to petition for visitation rights with their grandchildren. The client was a 77-year-old grandfather who had been denied contact with his granddaughter for over 10 years by her legal father. Despite a "limited guardianship" that was expected to encourage the young woman to develop independence and a court order allowing her freedom of visitation with her grandfather, her father still cut off any contact with the young woman's grandfather. This past year, Duane Morris attorneys successfully enforced the grandfather's right to visitation with his granddaughter. Three-and-a-half years after the team's initial petition, the court granted the grandfather visitation and the two shared a big hug.
Father and Daughter Reunited Following International Child Kidnapping
Duane Morris represented an Ecuadorian father in petitioning for the return of his six year old daughter under the Hague Convention on Civil Aspects of International Child Abduction, after the child's mother refused to return her. The client was told his daughter was going to on an eight day vacation with her mother, traveling from Ecuador to Disney World, but instead was taken to Union, NJ, where the mother's online boyfriend resided. The mother then refused to return her daughter to Ecuador, which violated the Ecuadorian custody order giving primary custody to the girl's father. The client spent the next year trying to locate his daughter and secure her return. The pro bono team petitioned for her return and elicited the mother did not have status in the United States, nor was she willing to agree to a new visitation order allowing the girl to spend time with her father in Ecuador. The judge's ruling ordered for the child's return to her father in Ecuador.
Protecting Tenants Facing Eviction
Across the country, Duane Morris attorneys represent tenants living in uninhabitable conditions and facing eviction. One particular client couple struck a chord with Los Angeles attorneys in 2017, who won a bifurcated bench trial on the clients' behalf in the Superior Court of Los Angeles County. The clients moved to the United States from Mexico in 2016 along with their three young children. That spring, the father suffered a back injury and could not work for many months. The family fell behind on their rent by less than one month. When the family attempted to make up the payment a few weeks later, the landlord refused and started eviction proceedings. Duane Morris represented the family in depositions, a summary judgment motion, mediation and bench trial before the Superior Court, ultimately ensuring the family remained in their home.
Win for Charter School Expansion in New Jersey
The Hoboken Dual Language Charter School (HoLa) offers an innovative educational program providing traditional core curriculum through immersion instruction in both Spanish and English to children of all language backgrounds. After the Hoboken Board of Education challenged renewal of HoLa's charter as well as HoLa's expansion—alleging HoLa had a segregative effect on Hoboken district schools—Duane Morris attorneys, on behalf of the New Jersey Charter School Association and in support of HoLa, argued the Board's measurements alleging segregation were improper and not supported by New Jersey law. The New Jersey Superior Court, Appellate Division, affirmed the New Jersey commissioner of education's analysis of racial and economic segregation in Hoboken schools and supported renewal and expansion HoLa. Because claims of segregation have become the primary argument by charter opponents to oppose renewal and expansion, the case implicated every one of New Jersey's 90 charter schools serving over 50,000 students.
Obtaining Guardianships for Families Caring for Their Disabled Loved Ones
Duane Morris attorneys in California, Maryland and Pennsylvania regularly work to ensure family unity by securing guardianships supporting incapacitated persons in living their lives to their fullest potential. When a child, sibling or parent no longer has or never will have capacity to handle his or her daily care and finances, a guardianship is the only legal remedy available to permit family members authority to take care of their loved one. Without access to counsel, low-income parents whose children are reaching the age of majority frequently have difficulty obtaining guardianship so they may continue making medical decisions on their children's behalf. Children frequently are unable to receive therapy, assistance with daily living or schooling until the parents obtain guardianship. Likewise, low-income adult children seeking to ensure their senior parents are cared for after they have dementia, Alzheimer's or other illness frequently face roadblocks in accessing the court.
In one case, Duane Morris attorneys represented a guardian seeking to care for her 90-plus-year-old mother with dementia. The mother refused to leave her home, and due to her dementia, the woman did not recognize her limitations or remember her actions. The mother was living in a home infested with mice, roaches, fleas and bed bugs. Family members who supposedly were taking care of the mother did not ensure she was fed or clean. They did not even ensure the property taxes were paid on a neighboring home in which the mother graciously allowed them to live. Consequently, the home was put up for sheriff's sale and one of the mother's daughters sought Duane Morris' assistance so her mother did not lose the home. Attorneys obtained guardianship of the woman on behalf of the daughter, who cleaned up the home, paid down the property taxes and ejected the other family members. The mother continues to age in her home surrounded by memories and family members who seek to ensure her safety.
Rising up to Claim the American Dream
Duane Morris aid for Afghan refugees in 2021:
100-plus Duane Morris volunteers
350-plus clients served
Legal clinics with Comcast and PNC
Clients ranging in age from newborns to very elderly grandparents
"When the crisis in Afghanistan happened, I had no idea what to do. I have a large family to help and no support. When I was referred to the Duane Morris team, it gave me hope and sense of direction. They helped me through 31-plus humanitarian parole applications and were always there to answer questions and help. I cannot say enough how thankful I am to Duane Morris for what they have done for Afghan people in these hard times." ― Azada Mowahid Nyazi
Mobilizing to Secure Safety for Afghan Refugees and Humanitarian Paroles
Our clients worked in positions ranging from post office workers, radio/TV and journalists, to serving in the International Security Assistance Force and Afghan military including officers in the war on terrorism/counter-Taliban group, Doctors Without Borders and international relief and development.
New Beginning for U.S. Military Interpreter and Afghan Refugee
Our client served as a front-line interpreter for the United States military during the U.S. War in Afghanistan. As a result, our client survived various death threats and attempts by the Taliban, including the murder of his father. Just before Kabul fell to the Taliban in August 2021, our client fled to France and stayed in a refugee camp outside Paris.
For the past four years, attorneys in Duane Morris' Newark office have worked with Rutgers Law School students and the International Refugee Assistant Project (IRAP) to petition for a Special Immigrant Visa (SIV) for our client to live safely in the United States. Four months after Afghanistan fell to the Taliban and following extensive vetting by the U.S. embassies in Kabul and Paris, on December 22, 2021, our client arrived in Detroit, Michigan. At the airport, he was greeted by his lead Duane Morris attorney for a long-overdue welcome celebration!

Precedential Third Circuit Win Affirms Asylees Need Not Subject Themselves to Physical Harm or Arrest to Reasonably Fear Persecution by Oppressive Regime
From a young age, our client was a member of the Union for Democracy and Social Progress, the largest political party in the Democratic Republic of Congo. He protested fraudulent elections as well as the policies of President Kabila, and following 2018, President Tshisekdi. In 2018, our client founded a political and social networking group, Liberté Congolaise, to oppose President Kabila, and he attended several demonstrations and documented others as recordings of the government's abuse. Beginning in 2019, our client was personally targeted for his political activities, and fellow activists were shot or disappeared after being arrested by the government. When the national police came for his arrest, our client fled to the airport, where he made his way to the United States. At the airport, he was warned by a member of DRC customs and immigration to "never plan to return to the Congo."
In the United States, our client was detained at DHS' Elizabeth Detention Center in New Jersey at the outset of the COVID-19 pandemic. Duane Morris attorneys took up his case via the Immigration Justice Campaign, representing the client in a half-day asylum merit hearing via telephone. The attorneys were not allowed into the detention center, and the center had no video capability, so the hearing was held with each party attending via telephone in a different location. While the immigration judge found our client credible, the judge denied asylum and ordered the client to be deported. The judge found the client had not suffered past persecution because he was not physically harmed and his fear of future persecution was unreasonable because he had been able to escape arrest via bribes. Undeterred, the team appealed the denial to the Board of Immigration Appeals, and then to the U.S. Court of Appeals for the Third Circuit, simultaneously filing stays of removal so the client would not be summarily deported.
Miraculously, the pro bono team also got our client out of detention during the pendency of his appeal, and following his survival of COVID-19, a huge win in and of itself. Going above and beyond, the team took on the social work side of the case, securing housing for the client at various social service agencies and churches as the client had no work authorization, family or friend support or access to benefits in the United States while his case proceeded on appeal.
At the end of 2021, Judge McKee, in a precedential opinion for the Third Circuit, resoundingly rebuffed the Board of Immigration Appeals' flawed reasoning, granted our client's petition for review, and vacated his deportation order stating:
As we have stressed, but apparently must emphasize yet again, we have never required someone to actually subject themself to physical harm or arrest before finding that his or her fear of returning to a country is reasonable. Merely stating such an absurdity demonstrates how illogical and impractical such a requirement would be… A refugee who reaches our borders need not bear the scars or disfigurement or mutilation to establish an objectively reasonable fear of returning home.
With this victory, we hope our client will be granted asylum by the immigration judge on remand and be able to remain safely in the United States, securing work authorization, refugee benefits and rebuilding his life in his new community.
Deportation Relief Under the UN Convention Against Torture for Guatemalan Taxi Driver
Our client, who originally worked as a taxi driver, fled after gangs extorted, threatened and persecuted him. Entering the case at the U.S. Court of Appeals for the Third Circuit at the request of HIAS Pennsylvania and Villanova Law School, a team of Duane Morris attorneys secured a remand to the Board of Immigration Appeals and the immigration judge. At the trial court on remand, the team successfully argued a change in country conditions, which would result in the client being tortured/murdered by gangs if forced to return to Guatemala. Securing removal/deportation relief under the United Nations Convention Against Torture, the team secured the client's release after two years in detention, including surviving COVID-19. Presently living and working in the New York City area, he will be able to remain in the United States so long as it is unsafe for him to return to Guatemala.
Securing Safety and Freedom from Persecution
In 2020, Duane Morris donated over 10,000 hours to more than 200 immigrants, assisting clients from their very first steps in the U.S. to obtaining work authorization, permanent residency and naturalization.
Since 2019—in collaboration with Immigration Justice Campaign, Immigration Equality, HIAS Pennsylvania and more—Duane Morris has significantly expanded its LGBTQIA-related asylum practice, taking on 17 cases and donating over 1,500 pro bono hours.
Helping to Heal
In February 2021, the pro bono team secured asylum for our client Maria, a 29-year-old transgender woman from El Salvador. At 13, Maria moved to her grandmother's home because her mother beat her for presenting as a woman and her mother refused to help Maria attend school. With her grandmother's help, Maria became a cosmetologist and, after opening her own salon, Maria began hormone therapy and fully transitioned to live as a woman. A few months later, Maria's cousin—a regional leader in the Mara 18 gang—began extorting Maria, knowing the police would refuse to protect Maria as a transgender woman. When Maria could not pay "rent," the gang sexually trafficked Maria for seven years. She also was threatened with death, kidnapped, beaten and experienced friends' murders simply because they were transgender. Maria's cousin brutally tortured/murdered a third cousin who was gay, and he threatened to do the same to Maria if she did not leave because he viewed her as an abomination. Maria fled to the U.S. where she sought asylum and was detained in an all-male facility during the coronavirus pandemic. Duane Morris attorneys took on Maria's case, arguing she was entitled to asylum as a member of a particular social group, transgender women in El Salvador. They built her case, working with witnesses in El Salvador who agreed to testify—even during the pandemic—and argued her case virtually. Maria was granted asylum and she continues working on healing and learning English. She also hopes to reopen her salon.
Supporting Culture Change and Acceptance
For over 30 years, GLAAD has been rewriting the script for LGBTQ acceptance. As a dynamic media force, GLAAD tackles tough issues to shape the narrative and provoke dialogue that leads to cultural change. Duane Morris attorneys support GLAAD's critical work by advising on a variety of corporate matters pro bono, including partnership agreements, investment policies and event contracts.
Client-Team Collaborations: Leading by Example
Comcast
Beginning in 2019, Comcast teamed up with Duane Morris and HIAS Pennsylvania to staff bimonthly citizenship clinics providing legal representation to lawful permanent residents applying to naturalize as U.S. citizens. To date, more than 50 Comcast attorneys/legal staff have volunteered, and when COVID-19 postponed spring 2020 clinics, the team pivoted to virtual clinics held throughout the pandemic.
In 2021, Comcast extended the collaboration, teaming up with Duane Morris and Philadelphia Lawyers for Social Equity to represent individuals in obtaining pardons before the Pennsylvania Pardon Board. One in three American adults has a criminal record; for almost all Pennsylvania criminal convictions—even minor offenses or something occurring decades ago—the only way to erase the record is a pardon.
"One of the many overwhelming challenges facing immigrants is navigating the complexities of a new legal system. Comcast's lawyers are proud to help families on the path to citizenship and its benefits and responsibilities."
― Derek Squire, Comcast Vice President and Deputy General Counsel; Chair of Comcast's Pro Bono Committee
Mount Sinai Health System/Mount Sinai Medical Legal Partnership (MSMLP)
In 2018, Duane Morris in collaboration with Mount Sinai attorneys, medical professionals and social workers created a medical legal pro bono project benefiting Mount Sinai Queens and Mount Sinai Brooklyn patients with limited income/resources and legal issues affecting their health. Attorneys staff clinics every other Friday at Mount Sinai Queens, answering questions and providing full representation on estate planning, guardianships, immigration, benefits and landlord/tenant issues. During COVID-19, Duane Morris and MSMLP pivoted the clinics to a virtual model maintaining biweekly clinics. Since 2018, more than 70 volunteers have served over 150 clients in more than 40 clinics.
Cisco
As part of Cisco's 2020 pro bono week, attorneys teamed up with Duane Morris and Pro Bono Partnership of Atlanta to host a virtual nonprofit/microentrepreneur tuneup clinic. Teams of attorneys advised six clients on various legal issues ranging from intellectual property to corporate governance to employment and more.
Asylee Client Reunited with Sons Four Years After Fleeing Horrific Abuse in Nicaragua
In 2018, attorneys and staff in our Boca Raton and New York offices secured asylum for our client, Aurora, who fled 20-plus years of horrific domestic violence beginning when she was only 16 years old. Perpetrated by her partner, the abuse – including attempts to kill her in front of their children – was permitted by local authorities because of her partner's prominent, political family. Aurora reported the abuse to police numerous times and tried to run away, even enlisting the help of her local Catholic church and priest, but the violence never stopped and her partner always found her. As part of the asylum claim, Duane Morris included Aurora's two sons – whom Aurora left in the care of family – as derivatives.
In early 2020, the sons' visas were issued, permitting them to travel to the United States. Then, COVID-19 hit, preventing travel. Attorneys/staff helped arrange four flights earlier this spring, all of which were canceled. With time running short (the visas were set to expire in August), the attorneys collaborated with the U.S. State Department in Washington, D.C., and the U.S. Consulate in Nicaragua to organize a charter flight. Four years after their separation and very fittingly on July 3, the sons – now 22 and 16 years old – were reunited with their mother at Miami International Airport! All three now will be able to live a life of safety in the U.S. and pursue the "American dream."
Securing Safety and Freedom from Persecution
In response to the immigration crisis at the southern border of the United States, Duane Morris increased our immigration pro bono efforts nationally during the past several years. Aiding more than 350 immigrants and families in the past year, totaling over 6,000 hours, volunteer attorneys particularly focused on assisting LGBTQ immigrants and political activists fleeing oppressive governments, as well as individuals fleeing intimate-partner violence.
Duane Morris sent two teams of attorneys and staff to provide know-your-rights counseling and limited representation to immigrants detained in southwest Texas, held a bilingual book drive for children learning English while detained in foster shelters separated from their parents, and continues ongoing, monthly immigration clinics in various cities across the United States, in addition to full representations. Our immigrant clients have come to the United States from all parts of the world, including Afghanistan, the Bahamas, Cambodia, Chad, El Salvador, Guatemala, Honduras, Jamaica, Liberia, Russia and Ukraine.
Securing Refugee Status for Two Sisters Fleeing Gang Violence in El Salvador
Corporate and Trial attorneys from Duane Morris' Newark office represented two young sisters from El Salvador through the International Refugee Assistance Project (IRAP) in pursuing a request for review with U.S. Citizenship and Immigration Services to challenge the denial of their request for refugee status. Living in an all-female household as practicing Christians, the sisters were targets for kidnapping and ransom by surrounding gangs and were repeatedly threatened with death, particularly since the gangs knew that no man was living in the household. The younger sister faced almost daily threats by gang members as she walked to high school in a neighborhood where several young girls recently disappeared.
The sisters experienced the murder of their maternal grandmother and aunt when gang members set off grenades in the bus in which they were riding. Several years later, another aunt who owned a small business was subject to extortion by gangs for "rent" in return for safety. When the aunt no longer could afford to pay the "rent," she fled along with the sisters and their family.
The girls were desperate to flee to safety in the United States and be reunited with family members. Filing the request for review almost two years ago, volunteer attorneys argued the sisters suffered greatly and feared even greater violence and persecution by threatening gangs. A reinterview was conducted earlier this year and the sisters were granted refugee status, safely arriving in the United States in spring 2019.
U.S. Citizenship Established After 15-Year Mistake Corrected by the Board of Immigration Appeals
Duane Morris attorneys in New York established a claim to U.S. citizenship for a lawful permanent resident of the U.S. since 1978. Now an inmate of Sing Sing Correctional Facility, we initially sought clemency on his behalf, but soon recognized that without U.S. citizenship, our client was facing immediate deportation after the completion of his criminal sentence.
Our client was 7 when his father became a naturalized U.S. citizen and sponsored him and his mother. The client's parents later divorced and the decree did not grant sole "legal custody" to either parent. In March 2004, the Board of Immigration Appeals affirmed, without opinion, the decision of an immigration court, finding that our client was not a citizen because his father—the only parent through whom the client could naturalize—did not have sole "legal custody"—then a requirement of the Immigration and Nationality Act, which has since been repealed. After reviewing the client's entire immigration file and hearing record, attorneys concluded an injustice occurred. They filed a motion to reconsider, although the rules state such a motion must be made within 30 days. In a unanimous decision, the board vacated its earlier decision and found our client's parents shared legal custody, his father had been actively involved in our client's life and "constituted actual uncontested legal custody"—meeting the qualifications of the Immigration and Nationality Act.
While incarcerated, our client has turned his life around with a virtually perfect prison record. He maintains close ties with his family (all of whom are U.S. citizens), obtained his high school diploma and is on his way to completing a four-year college degree. Our fight for clemency on his behalf continues.
Political Asylum for LGBTQ Individuals Fearing Persecution and Death
Through Immigration Equality, the nation's leading LGBTQ immigrant rights organization, Duane Morris regularly represents individuals seeking asylum in the United States fearing persecution in their home country as a result of their sexual orientation.
Originally from Ghana, one client nearly was beaten to death for being gay and was imprisoned for 20 days to "cure" his homosexuality. The client fled Ghana to Brazil and eventually set out by bus, foot and human smuggler through South and Central America to California, seeking safety and asylum. In California, the client was detained by United States immigration officials and placed into deportation proceedings. Duane Morris defensively argued that the client feared persecution in Ghana and should not be ordered removed. The Philadelphia Executive Office for Immigration Review and the Department of Homeland Security agreed the client's fear was credible and granted him asylum.
Another client, a gay man from Jamaica, was forced to marry a woman to "prove" he was not gay. He fled his home country after being stoned and his wife attempting to kill him. He sought asylum in the United States so he could live a happy, secure life with his partner. Duane Morris attorneys from the Miami and Philadelphia offices successfully represented the client in an affirmative asylum application based on persecution related to his sexual orientation.
Political Asylum Obtained for Survivor of Domestic Violence
Duane Morris obtained asylum for a survivor of domestic violence, who was put into removal proceedings at the U.S.-Mexico border. The client was involved in an abusive relationship in her home country, and for 22 years she endured frequent threats of violence and brutal beatings at the hands of her spouse, often in front of her children and neighbors. The client left her country and her children, whom she could not take with her, and traveled alone through Central America and Mexico. She crossed the U.S. border and asked for asylum on the grounds of domestic violence, a U.S. immigration category only recently recognized as a basis for asylum subject to showing acceptable facts and applicable law, and was arrested and placed in an immigration detention facility. The pro bono team worked together to get the client released by posting her bond, and continued their tenacious work when she arrived in New York. In an incredible victory, the team was able to obtain asylum status for the client along with work authorization and Social Security.
Pro Bono Team Obtains 11th Circuit Stay of Removal for Eritrean Refugee
Duane Morris won a stay of removal for an Eritrean refugee while the 11th Circuit considers his petition for review. The client had been persecuted for his political expression, including multiple rounds of months of solitary confinement and torture. He is being held at an ICE facility, and was to be deported by May 6, but now his removal will be put on hold pending the 11th Circuit's merits review.
Permanent Legal Resident Status for Mexican National
Duane Morris represented a Mexican national in his petition to remove conditions on his legal permanent resident status. U.S. Citizenship and Immigration Services (USCIS) intended to revoke his status due to visa violations that occurred long before his present status. The client is married to a U.S. Citizen, has a disabled son and has lived in the U.S. for over 20 years. Documenting these equities, the pro bono team was successful in having the condition on the client's status removed and securing his lawful permanent residency in the United States. He will be eligible for U.S. citizenship in three years.
Pro Bono Amicus Representation for Immigration Case
Duane Morris filed a pro bono amicus curiae brief in the Third Circuit on behalf of client HIAS Pennsylvania. The amicus brief argued that the Third Circuit should grant rehearing en banc in an immigration case to give additional consideration to how broadly the court interprets whether an offense is "relating to" a provision of the Immigration and Nationality Act. HIAS Pennsylvania, a nonprofit legal services organization providing pro bono and low-cost services to immigrants in Philadelphia and the surrounding counties, sought to appear as amicus in the case because it assists immigrants who may be impacted by the panel's decision. The brief provides an invaluable perspective on the potentially severe human impact of the panel's decision, which is all too often overlooked in immigration cases.
Immigration Team Obtains Quick Approval for I-601 Extreme Hardship Waiver
Duane Morris secured approval of a Mexican father's extreme hardship waiver. The father had been stuck in Mexico for over five months while his U.S. citizen wife, who is physically and mentally handicapped, tried to care for their daughters in the U.S. The waiver, which allowed the father to return to his wife and daughters, was approved in less than two months (normal processing times can be upwards of six months or longer) and the father returned to the U.S. soon thereafter.

People Change; Records Don't
Teaming Up to Reform the Pardon Process in Pennsylvania
Any person who ever was arrested or charged with a crime in Pennsylvania, even if they never had to go to court or never were found guilty, has a criminal record. Every crime a person was charged with is permanently available on the internet to the public, for free, at any time, unless a judge orders it to be expunged (or erased). For most criminal convictions in Pennsylvania, even minor offenses or something that happened decades ago, the only way to erase them from public records is to get pardons from the Pennsylvania governor. On average, over 200,000 new criminal cases are initiated every year in Pennsylvania with 25,000 people released to Philadelphia from federal, state and local jails and prisons annually. Ninety-one percent of those coming from state prisons are returning to low-income communities. Indeed, over 50,000 low-income Pennsylvanians' ability to obtain gainful employment is directly impacted by their lack of access to a pardon decision. Yet, annually, the Pennsylvania Board of Pardons only decides approximately 200 cases.
For several years, Duane Morris attorneys have assisted more than 300 individual Philadelphians seeking expungements, redactions and sealings of criminal charges that were dropped or minor offenses that could be sealed (removed from public view). Our clients ranged from individuals who made poor decisions shoplifting or getting in neighborhood fights as young adults to grandmothers now over 70 years old who wanted to clear their record so they could work in child care or help care for grandchildren in the foster care system.
Nevertheless, our one-by-one approach seemed a drop in the bucket of true reform, and Duane Morris attorneys sought ways to help secure meaningful reform of a broken system. Enter Philadelphia Lawyers for Social Equity (PLSE), which seeks to refine the Pennsylvania pardon process by simplifying the pardon application and adopting a summary hearing process for applications where the government and victim-witnesses do not object to the pardon. Pennsylvania defines a pardon as an act of grace that is extended by the state to those who clearly demonstrate that they learned their lessons, redeemed themselves, changed their ways and were "reborn" as productive citizens. Presently, the Pennsylvania Constitution requires a "full hearing in open session, upon due public notice" for the Board of Pardons to recommend a pardon to the governor. The board only meets four times a year to hear applications, which necessarily limits the number of applicants heard annually.
Volunteer attorneys working with PLSE proposed the board adopt a "consent agenda" approach whereby the board may list hundreds of individuals for approval (e.g., those whom the board identifies as meriting a "presumptive pardon"), call any person appearing on the list to a public hearing, remove the names of anyone as to whom an objection is lodged and then vote to approve all the rest in a single vote. Duane Morris Appellate attorneys performed a constitutional analysis concerning whether the consent agenda complied with the requirement of a "full hearing" requirement under the state Constitution. Concluding the consent agenda, at a minimum, was not unconstitutional, the team found it likely comported with the intent of the framers in requiring a "full hearing." The consent agenda is under active consideration and we remain hopeful for pardon reform in Pennsylvania.
Freedom Restored 17 Years After Wrongful Conviction
On April 23, 2019, our client, Karla Baday, was released from prison after serving almost 17 years for crimes she did not commit. Working along with the Northern California Innocence Project, Duane Morris attorneys represented Karla in her fight to overturn her conviction. She was wrongfully convicted in 2002 based on a single incident of an alleged sexual assault of her former partner's three young children. Karla and her former partner met in December 1999. Within a month, they were romantically involved and the partner invited Karla to move into her home with her and her three young children. The couple happily lived together for two years, during which time our client often cared for the children alone. In December 2001, Karla moved out of the couples' home to care for her ill mother, but celebrated Christmas with her partner and the children. In 2002, Karla returned to care for her mother and the couple separated. Karla's partner then claimed Karla engaged in a single incident of inappropriate sexual contact with the children. At trial, Karla, who spoke little to no English, was profoundly hampered by her court appointed defense counsel. Subsequently disbarred and deceased, the defense counsel failed to challenge the testimony of the state's unqualified nurse "expert" who claimed that there was medical evidence that proved the allegations were true. This testimony was patently false, yet left unchallenged, and served to bolster the prosecution's otherwise weak case. Karla was convicted of multiple counts of child sexual abuse and sentenced to 45 years to life. Following the submission of several rounds of legal briefs and numerous declarations over an 18-month-period, and after the court issued an order to show cause as to why Karla had been incarcerated, on March 19, 2019, the district attorney conceded the medical evidence presented at trial was false and stipulated that Karla's conviction should be reversed. The district attorney initially claimed he intended to retry Karla for the original crimes, but agreed to a plea bargain wherein the 2002 sexual molestation charges would be dismissed. Karla now resides with her sister and family in Georgia. While incarcerated, Karla learned English and obtained her high school equivalency diploma and associate's degree. Duane Morris attorneys continue to assist Karla in her immigration proceedings.
Ensuring Client Received Medically Appropriate Care in Prison
Our client has been incarcerated for many years. For the past six years, he has sought surgery for a "massive hernia" (as described by doctors, over 90 percent of his intestines were outside his body) amid refusals by the state's department of corrections. Attorneys were court appointed to represent the client team after three prior law firms failed to achieve a successful result. The pro bono team worked graciously and with tenacity to obtain the needed surgery, negotiating with opposing counsel, the prison and a medical services provider to make sure the neglected medical care was paid for appropriately.
Petition for Juvenile Lifer to Have Sentence Revisited, Reduced
Duane Morris' Pro Bono Program, working with the City of Philadelphia District Attorney's Office, the Juvenile Law Center and the Youth Resentencing and Reentry Project, successfully petitioned the Court of Common Pleas of Philadelphia County, Criminal Division, to reduce the sentence of an inmate, incarcerated as a juvenile, from life without parole to 30 years to life. The effort is part of the firm's Juvenile Lifer Initiative and in furtherance of a U.S. Supreme Court order in the 2012 decision Miller v. Alabama— where mandatory sentences of life without the possibility of parole were found unconstitutional for juvenile offenders.
Innocent Man's Arson Conviction Vacated
Duane Morris represented the Innocence Network pro bono as amicus curiae in helping vacate the conviction of a Kentucky man who was sentenced to 52 years in prison for arson, second degree manslaughter and other offenses. At issue was the government's expert testimony in the initial trial. Expert witnesses applied burn pattern analysis and used a specially trained dog to detect potential chemical accelerants, thus claiming the fire originated in different places and implying the fire was set intentionally. Advocating for a new trial, Duane Morris attorneys argued that such fire science methods and analyses now are recognized as faulty in an increasing number of jurisdictions. At the new trial, defendant's experts testified to the unreliability and faultiness of the government's experts' methods, analysis and opinions. Because the conviction was based on unreliable expert testimony regarding fire origination, the court found the interests of justice required the conviction be vacated. The defendant was released from prison after serving over 10 years. The court held, "It is now objectively clear that the opinions given by these four experts at trial were, viewed in the most favorable light, based on obsolete and erroneous techniques, 'rules of thumb' and assumptions, and none can be relied upon as true."
Pro Bono Representation in Two Successful Presidential Commutations
Attorneys in Duane Morris' Philadelphia and San Francisco offices successfully represented pro bono clients Curtis Bell and Christopher Pfaff, respectively, in obtaining commutations of their sentences for nonviolent drug offenses. At 58 years old, Mr. Bell spent the past 22 years in federal prison on a drug conspiracy charge for which he was sentenced to life imprisonment. Mr. Pfaff served 12 years of a 21-year sentence in federal prison; he had pled guilty to a drug manufacturing charge.
Working with the American Bar Association and Clemency Project 2014, Duane Morris petitioned the president, through the Department of Justice's Office of the Pardon Attorney, for the clients' release under the Justice Department's program to commute and pardon exemplary, nonviolent offenders who served more than 10 years of sentences for crimes that, if sentenced today, the individuals already would have been released.
Released in May 2017, Mr. Bell is working as a chef in prepared foods. He reunited with and cares for his 85-year-old mother, two children and several grandchildren. While incarcerated, Mr. Bell expressed remorse and was a productive, peaceful and hardworking inmate. He served as one of the main cooks at Federal Correctional Institution Yazoo City (Mississippi) Medium. He also earned his GED and hopes to work with programs designed to keep youth out of prison.
Despite Mr. Pfaff's history of no violent behavior or ties to any drug cartel or supplier network, he faced a long sentence under prevailing sentencing laws. If he were sentenced today, Mr. Pfaff likely would have received a sentence of fewer than eight years, not 21 years. During his 12 years in prison at United State Penitentiary, Marion (Illinois), Mr. Pfaff had an exemplary record of good conduct, showed commitment to hard work, earned his GED and excelled in college-level math courses. Mr. Pfaff plans to study physics and engineering and to pursue a career in those fields.
Parole for Client Sentenced to Life in Prison as a Juvenile
Richard Phelps was sentenced to life without parole as a juvenile for a crime he committed when he was 16 years old. After serving 35 years of his sentence, Mr. Phelps was paroled in spring 2017. Duane Morris attorneys successfully represented Mr. Phelps in his constitutionally mandated resentencing hearing under Miller v. Alabama (2012) (holding that mandatory life without parole sentences are unconstitutional for juvenile offenders) and Montgomery v. Louisiana (2016) (holding that Miller must be applied retroactively). In advocating for a reduced sentence, the team considered Mr. Phelps' young age, lack of prior misconduct of any form and difficult childhood as well as his remorse and rehabilitation efforts while incarcerated. Prior to his resentencing, Mr. Phelps had been free of any misconduct—minor or major—for over 20 years, and he worked as the manager of the soap detergent factory at the state correctional institution from 1988 to 2015. In 2015, he began working in the print shop to accommodate his taking GED classes. Mr. Phelps also participated in courses and programs aimed at violence prevention and victim awareness.
Now living with his godmother, Mr. Phelps is pursuing opportunities with Philadelphia's Center for Employment Opportunities for formerly incarcerated individuals and the Youth Sentencing & Reentry Project, which partners with court-involved youth to provide support to children prosecuted in the adult criminal justice system, including juvenile lifers.
Duane Morris Helps Organize Citywide Expungement Clinic for Over 300 Philadelphians
Historically, Pennsylvanians encountered steep barriers to expunging criminal records. Absent expungement, a publicly accessible record would remain even when a person was merely arrested and never convicted of a crime. Indeed, only such non-convictions were expungable in Pennsylvania; criminal convictions could not be expunged no matter how many years elapsed or whether a person completed his or her sentence. Beginning in November 2016, a new law allows Pennsylvanians to seal minor misdemeanor convictions so they only are accessible to judicial and law enforcement officials. Duane Morris attorneys—in collaboration with Community Legal Services of Philadelphia and the Philadelphia Bar Association—led a citywide clinic to help clear the records of more than 1,000 Philadelphia residents. Duane Morris attorneys assisted over 300 individuals in expunging and sealing their records, with the hope of helping open doors to employment for fellow city residents.
Corporate Pro Bono Help for the Atlantic Center for Capital Representation
The Atlantic Center for Capital Representation (ACCR) (Philadelphia) provides consultation and mitigation services, legal advocacy and training for defense attorneys providing legal representation in death penalty and juvenile life without parole sentencing and resentencing cases in Pennsylvania. Duane Morris attorneys represented ACCR in establishing as an independent nonprofit with IRS tax-exempt status and ACCR supported Duane Morris by providing mitigation and reentry services for several clients in juvenile life without parole resentencing hearings.