Christopher H. Casey Joins Duane Morris White-Collar Practice in Philadelphia
February 1, 2018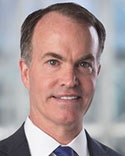 PHILADELPHIA, February 1, 2018—Christopher H. Casey has joined Duane Morris LLP as a partner in the firm's Philadelphia office. Casey previously worked in the U.S. Department of Justice, the Federal Trade Commission and as an Assistant United States Attorney in the Middle District of Pennsylvania. He enhances the firm's white-collar criminal defense, antitrust, regulatory and general litigation capabilities in Philadelphia, nationally and internationally. He joins Duane Morris from Hogan Lovells US LLP in Washington, D.C.
Casey, a member of the well-known Pennsylvania political family that includes his brother, U.S. Senator Bob Casey, and his father, the late Pennsylvania Governor Robert Casey, concentrates his practice in the areas of white-collar defense, criminal and civil federal antitrust litigation, and has particular experience with the telecommunications, chemical, energy and food industries.
"We are absolutely thrilled to have a lawyer of Chris Casey's stature join our highly accomplished white-collar and antitrust teams," said Matthew A. Taylor, CEO and Chairman of Duane Morris. "He is well-known in government corridors in Washington and in the corporate community in Pennsylvania and beyond for his outstanding achievements in the public and private sectors. He's going to be a superb addition to our Firm."
"Duane Morris offers my corporate clients the best possible platform, with its highly regarded Trial Practice Group, its superb corporate reputation, its presence across the country and its international reach," Casey said. "I've long admired Duane Morris attorneys in the White-Collar practice and throughout the firm. I am delighted to be joining them, and to be returning home to work in my native Pennsylvania, where my friends and family have been so much a part of my personal and professional life."
Casey noted that he and his family maintained a Pennsylvania home even while he commuted to Washington, D.C., for his last position. In addition to his government service, he previously worked at two other Philadelphia-based law firms, and in his own practice in his native Scranton, Pennsylvania.
As Deputy Associate Attorney General from 2014 to 2016, Casey advised top officials in the DOJ on formulation and execution in the areas of antitrust violations, financial fraud, tax and bankruptcy matters. He worked on the cases that produced multibillion-dollar settlements with Bank of America, Citigroup, Morgan Stanley, Goldman Sachs and Deutsche Bank.
Casey also worked on the Yates Memo on Individual Responsibility for Corporate Wrongdoing, one of the most important documents to come out of the DOJ under President Obama. He has spoken widely on the impact of the memo and its possible revisions under the Trump administration. He also spent more than five years as an antitrust litigator at the FTC, primarily in the telecommunications, energy, chemical and food industries.
As Assistant United States Attorney for the Middle District of Pennsylvania from 1999-2006, he prosecuted white-collar felonies, firearms, narcotics and immigration crimes.
Casey earned his undergraduate degree in Mathematics from the College of the Holy Cross in Worcester, Massachusetts, and earned his J.D. at George Washington University School of Law.
About the White-Collar Criminal Defense Practice
Duane Morris attorneys defend individuals and corporations in the full spectrum of federal and state criminal proceedings, matters regarding government regulations and inquiries, and corporate internal investigations. These clients require our experienced counsel, who understand the legal and professional ramifications of such criminal, regulatory and administrative matters.
About Duane Morris
Duane Morris LLP provides innovative solutions to today's multifaceted legal and business challenges through the collegial and collaborative culture of its more than 800 attorneys in offices across the United States and internationally. The firm represents a broad array of clients, spanning all major practices and industries.