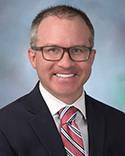 WASHINGTON, D.C., November 7, 2017—Duane Morris LLP attorney Christopher J. Tyson received the firm's 11th annual Duane Morris Pro Bono Award. The award honors the outstanding service of an attorney who exemplifies Duane Morris' commitment to pro bono service and has made a significant impact on an individual or community. The recipient may select a local legal services organization to which the firm will make a $5,000 charitable donation to support its efforts. Tyson received the award at Duane Morris' annual firm meeting.
Tyson was honored for his critical support of U.S. military veterans. Himself a veteran of the U.S. Navy (Lieutenant, O-3), where he served as a nuclear surface warfare officer, Tyson embodies Duane Morris' ethic of pro bono service, commitment and entrepreneurship by providing legal assistance to low-income veterans who cannot afford to hire an attorney. His pro bono service includes representing veterans in service-connected disability benefits appeals before the U.S. Court of Appeals for Veterans Claims and U.S. Department of Veterans Affairs, as well as in upgrading their discharge statuses before the U.S. Department of Defense in order to access essential medical, financial and educational benefits that they are entitled to as veterans.
Prior to 2016, no D.C. area legal aid organization provided pro bono representation to veterans residing in the area. Tyson, along with community partners, launched "pop-up" legal clinics across the District in fall 2016, aiding more than 100 veterans. In 2017, the collaboration was invited to host weekly legal clinics at the D.C. Veterans Administration Medical Center, providing free advice and representation to veterans receiving care at the center. Tyson not only inspired Duane Morris' entire Washington, D.C., office to volunteer, but also recruited additional pro bono attorneys. As a result of Tyson's efforts, more than 400 low-income veterans have been afforded access to legal representation and/or counsel across the Washington, D.C. region. Tyson was recognized by the District of Columbia Mayor's Office for Veterans Affairs in "Appreciation for Exemplary Achievements, Leadership, and Commitment to the Veterans Community in the District of Columbia" and by The Veterans Consortium Pro Bono Program as a VIP: Volunteer Inspiring Pro Bono.
Tyson practices in the area of intellectual property law with a focus on patent prosecution and litigation. He has experience with complex intellectual property litigation in federal courts from pre-filing stages through discovery, summary judgment and trial. Tyson has worked on a variety of intellectual property litigation matters, including matters related to patent, copyright and trademark infringement. He has supported cases in the Eastern District of Virginia, Northern and Eastern Districts of Texas, Southern and Eastern Districts of New York, District of Delaware, Western and Eastern Districts of Michigan, District of Utah, District of Massachusetts, District of New Jersey, District of Columbia, Central and Northern Districts of California, District of Kansas, Northern District of Illinois and U.S. Court of Federal Claims. Tyson has prepared non-infringement and invalidity opinions and assisted in defensive proceedings, including declaratory judgment actions in federal court, and has been engaged in multiple post-grant proceedings before the Patent Trial and Appeals Board at the U.S. Patent and Trademark Office. He assists clients in the acquisition of U.S. and foreign patent rights in diverse technologies such as data encryption technology, e-commerce, internet of things (IoT), nuclear power and energy, propulsion plant systems, shipboard environmental systems, data networks, telecommunications, thin film deposition, optics, medical devices, vehicle and design patents. Tyson also has experience with due diligence reviews of patents and trademarks, conducting patent and trademark searches, drafting prosecution-related opinions, and the drafting and analyzing of intellectual property licenses and agreements?including patents, trademarks, software and know-how.
Tyson is a 2010 graduate of George Mason University School of Law. He is a 2007 graduate of Old Dominion University (M.S., Engineering Management) and a 1999 graduate of the United States Naval Academy (B.S., Ocean Engineering). Tyson served in the Navy from 2000 to 2007.
About the Duane Morris Pro Bono Program
Duane Morris' Pro Bono Program provides free legal services to those in our communities least able to afford them. The importance of pro bono work and volunteerism has been an integral part of Duane Morris' culture and a backbone of our value system since the firm's inception more than 110 years ago.
About Duane Morris
Duane Morris LLP provides innovative solutions to today's multifaceted legal and business challenges through the collegial and collaborative culture of its more than 750 attorneys in offices across the United States and internationally. The firm represents a broad array of clients, spanning all major practices and industries.