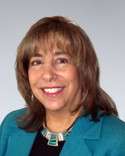 WASHINGTON, D.C., July 11, 2011—Denyse Sabagh, head of Duane Morris' Immigration Practice Group, was honored with the American-Arab Anti-Discrimination Committee (ADC)'s Hala Salam Maksoud Leadership Award. Named after former ADC president and nationally recognized civil and human rights advocate Dr. Hala Salam Maksoud, the award is presented annually to a community leader who has exhibited great leadership, strength and compassion toward the concerns of the community and the mission of ADC. Sabagh received the award on June 11 at the ADC Gala Awards Dinner, which was part of the 2011 ADC National Convention in Washington, D.C.
"It was with great pleasure that we honored attorney Denyse Sabagh with the Hala Maksoud Leadership Award," said Sara Najjar-Wilson, immediate-past president of ADC. "Dr. Maksoud was one of the most influential and important leaders in ADC's history. Hala's legacy lives on through women, like Denyse, who mirror her strong presence, compassion, leadership and commitment to civil and human rights. We are very proud of Denyse, who continues to exemplify all those attributes through her legal, as well as her pro bono, community services."
"I am moved and touched by this honor," said Sabagh. "It means a great deal to me to be singled out so beautifully by my own peers. As the group knows, my grandparents came from Lebanon and loved this country, as well as their own homeland. It is critical to who we are as a nation to build an inclusive society that is strengthened and empowered by its diversity. The work of ADC has contributed to this by promoting the rich cultural heritage of the Arab community and defending the rights of people of Arab descent, and it is wonderful to have this recognition from my community."
As head of Duane Morris' Immigration Practice Group, Sabagh practices in the areas of immigration and nationality law and litigation. She helps corporate clients manage both inbound and outbound employment immigration and is a recognized leader in developing strategic business immigration programs and policies.
Sabagh is a former national president and general counsel of the American Immigration Lawyers Association and serves on its board of governors. She is on the board of directors of the National Immigration Forum and is chair of the board of the National MultiCultural Institute. Sabagh has also served on the board of directors of the American Civil Liberties Union National Capital Area Chapter and is a former member of the American Bar Association Coordinating Committee on Immigration Law. She has received numerous awards for her immigration work, including the American Immigration Lawyers Association's Edith Lowenstein Award for Excellence in advancing the practice of immigration law. Sabagh is a graduate of George Mason University Law School and of the University of Maryland.
About the American-Arab Anti-Discrimination Committee (ADC)
ADC is a civil rights and civil liberties organization committed to defending the rights of people of Arab descent and promoting their unique cultural heritage. The largest Arab-American grassroots civil rights organization in the United States, ADC is nonprofit, non-sectarian and non-partisan. It was founded in 1980 by former U.S. Senator James Abourezk, has chapters nationwide, and members in all 50 states. ADC welcomes members of all faiths, backgrounds and ethnicities.
About Duane Morris LLP
Duane Morris LLP, a full-service law firm with more than 700 attorneys in 24 offices in the United States and internationally, offers innovative solutions to the legal and business challenges presented by today's evolving global markets.