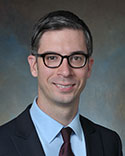 Brian N. Biglin
NEWARK, N.J., November 5, 2018—Duane Morris LLP attorney Brian N. Biglin received the firm's 12th annual Duane Morris Pro Bono Award. The award honors the outstanding service of an attorney who exemplifies Duane Morris' commitment to pro bono service and has made a significant impact on an individual or community. The recipient may select a local legal services organization to which the firm will make a $5,000 charitable donation to support its efforts. Biglin was acknowledged at Duane Morris' annual firm meeting.
Biglin was recognized for his positive impact on numerous individuals facing isolation, experiencing trauma and who had no access to legal counsel. He represented a paraplegic prisoner before the U.S. District Court for the District of New Jersey in a suit concerning a county jail's failure to provide wheelchair access to the outdoors or to certain bathroom areas and the jail's deliberate indifference to the client's need for an appropriate wheelchair, catheter and wound care. Biglin obtained a settlement for a significant monetary award to trust for the benefit of the client's sons' education. Among other things, Biglin has also assisted survivors of sexual trafficking in vacating criminal convictions that were the direct result of their trafficking, represented an Afghan refugee through the International Refugee Assistance Project Chapter at Rutgers Law School, and collaborated with Amnesty International to address federal and state laws regulating the sale of commercial data to law enforcement.
Biglin practices in Duane Morris' Trial Practice Group. His experience spans federal and state court practice, and includes securities regulatory actions and international arbitration. Among other things, Biglin is active in the firm's Media and First Amendment, and White-Collar Criminal Defense practices.
Biglin is a cum laude graduate of Rutgers Law School in Newark (J.D., 2011), where he was senior articles editor for the Rutgers Law Review, and a graduate of the University of Michigan (A.B., 2008). Recently, Biglin concluded a term as president of the Rutgers Law School – Newark Alumni Association and he continues to dedicate significant time to mentoring law students and improving public legal education.
About the Duane Morris Pro Bono Program
The goal of Duane Morris' pro bono program is to provide free legal services to those in our communities least able to afford legal services, and usually to those who have a dire need of such services. The importance of pro bono work and volunteerism has been an integral part of Duane Morris' culture and the backbone of our value system since the firm's founding more than 110 years ago.
About Duane Morris
Duane Morris LLP provides innovative solutions to today's multifaceted legal and business challenges through the collegial and collaborative culture of its more than 800 attorneys in offices across the United States and internationally. The firm represents a broad range of clients, spanning all major practices and industries.