BALTIMORE, NEW YORK and PHILADELPHIA, December 6, 2021—Duane Morris LLP associates Allison M. Midei and Daniel L. Mita of the Baltimore and Philadelphia offices, respectively, and partner Pierre Georges Bonnefil of the New York office were honored at the firm's annual meeting for their pro bono contributions. Midei and Mita received the 15th annual Duane Morris Pro Bono Award and Bonnefil was the recipient of the seventh annual Duane Morris Pro Bono Leadership Award.
The Duane Morris Pro Bono Award honors the outstanding service of an attorney who exemplifies Duane Morris' commitment to pro bono service and has made a significant impact on an individual or community. For the first time in the award's history, Duane Morris celebrates two winners in 2021 – a litigation and a transactional victory.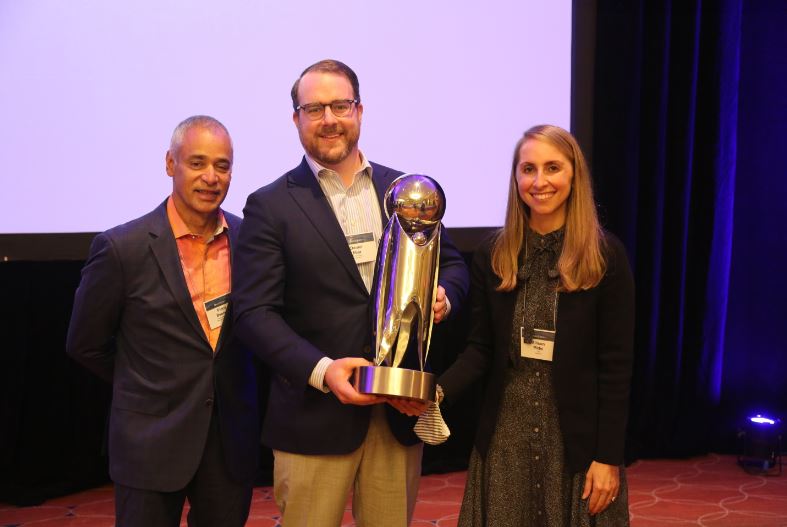 Pierre Georges Bonnefil, Daniel Mita and Allison Midei
Allison M. Midei successfully represented a Salvadorian father seeking the return of his sons after they were unlawfully kidnapped in contravention of local court orders and the United Nations Hague Convention on International Child Abduction. Midei and a team of Duane Morris attorneys argued a three-day federal trial securing an order returning the children to their father and home. In a second Hague case, Midei helped secured the return flight for an Honduran child amidst the coronavirus pandemic, which caused multiple canceled flights and required repeat requests and advocacy with the Honduran government for travel documents. Going above and beyond, she drove the child to the airport at 5:00 a.m.—with a translator on speakerphone—to make a last minute flight.
Midei maintains a national litigation practice representing clients in complex commercial disputes. She regularly represents creditors, CMBS servicers and other CMBS industry participants defending against lender liability claims and counsels clients in other loan enforcement activities. Midei also represents clients in various industries in employment-related disputes, including breach of contract, noncompete, trade secret and claims for injunctive relief. Her employment experience also includes complex research and analysis with regard to various federal, state and local employment laws and counseling employers concerning disciplinary action, family and medical leave laws, disability accommodation laws, discrimination, harassment, retaliation, termination, competition and other business-related torts.
Daniel L. Mita was honored for his work negotiating several complex contracts and leases during the coronavirus pandemic, including negotiating the donation of land by the Philadelphia Housing Authority to the Culture Trust of Greater Philadelphia for the creation of the North Philly Peace Park. With all necessary prerequisites in hand, the organization was able to break ground on the new pavilion on May 15, 2021. The new pavilion will provide an area for the community to gather and provide STEM classes, as well as health and wellness programs.
Mita concentrates his practice on real estate transactions, including acquisition, disposition, investment, financing, development and leasing. He leverages his years of experience working in real estate development to advise real estate developers, financial institutions, property owners and entrepreneurs on a host of issues, including development and land use, public and private financing structures, property acquisition and disposition, loan restructuring and workout, and commercial leasing. Mita also represents investors, community development entities and developers nationally in projects developed with the federal New Markets Tax Credit Program. He adds a unique perspective to his representation of clients' needs, informed by his business experience. Mita formerly served as a senior manager for a leading privately owned real estate development company where he focused on mixed-use developments executing loan and equity restructuring, land use and entitlements, and investor/lender relationship management.
The Duane Morris Pro Bono Leadership Award recognizes an attorney who exemplifies the spirit of pro bono: a selfless, long-standing and unwavering commitment to pro bono service; a leader by example who accepts pro bono matters without fanfare; and a pro bono contributor who encourages and mentors other firm attorneys in pro bono service.
Pierre Georges Bonnefil is the friendly attorney you would hope to meet if you were down on your luck, in the darkest part of your life and hoping for a helping hand. His calm and patient demeanor would put you right at ease, and you would feel like you won the lottery. In truth, you probably did. Since joining Duane Morris, Bonnefil has averaged more than 150 pro bono hours annually. In each of his cases, he actively engages his mentees. In fact, Bonnefil is sought out by associates to work on pro bono matters because associates know it will be an enjoyable experience, and they will be offered true learning, developmental and growth opportunities. An immigration partner, Bonnefil's pro bono practice spans complex asylum cases for mentally ill individuals, transgender journalists, political activists, and families fleeing gang-related persecution and kidnapping. He represents elderly citizenship clients/patients via the firm's collaboration with the Mount Sinai Medical Legal Partnership and assists young, student-photographers with immigration visas and citizenship. Beyond, immigration law, Bonnefil has served as an election poll worker pro bono and advised nonprofits.
Bonnefil has extensive experience representing companies in a wide range of immigration matters. He represents private and publicly held organizations in a variety of areas, with significant involvement in the online commerce, manufacturing, technology, finance, retail and fashion industries. Bonnefil represents clients before the U.S. Department of Homeland Security, various offices of the U.S. Citizenship and Immigration Services (USCIS), U.S. Customs and Border Protection, Immigration and Customs Enforcement (ICE), the U.S. Department of Labor, the U.S. Department of State, the U.S. Department of Justice and before local departments of labor.
He currently acts as immigration counsel for the French Consulate General in New York and has served as an attorney general honors attorney with the USCIS. Bonnefil has lectured at St. John's University School of Law and has served as an immigration counselor at Medgar Evers College of the City University of New York. In 2015, he was appointed a Knight in the French Legion of Honor by the Consul General of France in New York. The National Order of the Legion of Honor, formerly the Royal Order of the Legion of Honor, is the highest French order of merit, both military and civil. It was presented to him in recognition of his outstanding public service. Bonnefil is also a recipient of the French Order of Merit and a member of the board of the American Society of the French Order of Merit.
About the Duane Morris Pro Bono Program
The goal of Duane Morris' pro bono program is to provide free legal services to those in the firm's communities least able to afford legal services, and usually to those who have a dire need of such services. Accordingly, the focus of the pro bono work is providing quality legal services to individuals and organizations that serve the community: (i) through provision of services to low-income individuals; (ii) by furthering economic development in low-income areas; or (iii) by pursuing other charitable endeavors. The importance of pro bono work and volunteerism has been an integral part of Duane Morris' culture and the backbone of its value system since the firm's founding more than 110 years ago.
About Duane Morris
Duane Morris LLP provides innovative solutions to today's multifaceted legal and business challenges through the collegial and collaborative culture of its more than 800 attorneys in offices across the United States and internationally. The firm represents a broad array of clients, spanning all major practices and industries. Duane Morris has been recognized by BTI Consulting as both a client service leader and a highly recommended law firm.