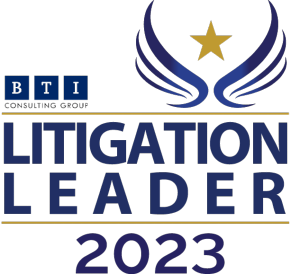 Duane Morris has been named a Litigation Leader in Complex Commercial Litigation in BTI Consulting Group's Litigation Outlook 2023. The ranking indicates that Duane Morris is in the top 4% of all firms for complex commercial litigation. Duane Morris was also named a Standout Firm in Class Actions Litigation (top 13% of all firms), Complex Employment Litigation (top 10% of all firms), Commercial Litigation (top 17% of all firms) and IP Litigation (top 10% of all firms) by BTI Consulting Group. Additionally, the firm has been named to BTI's 2023 Intimidating Opponents: Most Feared Law Firms in Litigation list.
According to BTI:
Litigation spending remains at record levels as do the litigation matters a single company faces. These dual increases create more demand. Clients want strategies and plans for working through their backlog. And it is an opening for law firms who can bring project management and operational strategies to help with workflow. Experienced clients know they can save money and resolve cases with strong management systems. These systems are one of the few tools proven to help gain improved control over a growing caseload. This presents an opportunity for law firms to strut their support skills outside the firm — and make clients lives a lot easier.
For more information, please visit the BTI Consulting Group website.