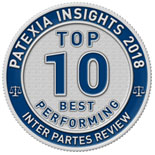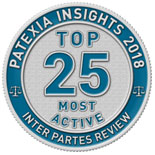 Duane Morris has been ranked as one of the Best Performing Law Firms in Patexia's 2018 IPR Intelligence Report. Duane Morris has the highest inter partes review (IPR) institution percentage of any of the nation's Top 15 most active petitioner law firms.
The firm is also ranked in other categories, including:
Top 10 Best Performing Law Firms Representing Petitioners
Top 25 Best Performing Law Firms Overall Representing Petitioners or Patent Owners
Top 25 Most Active Law Firms Representing Petitioners
Duane Morris partner Richard C. Kim was also recognized among the "Top 15 Best Performing Attorneys Representing Petitioners or Patent Owners."
About Patexia
Founded in 2010, Patexia is more than mere algorithms and databases, and it's not as straightforward as a "social network." By fusing all of these concepts into one powerful central source, Patexia created the globe's largest online community for IP professionals. Its 2018 IPR Intelligence Report covers all cases, including 7,751 IPR cases, for the last five years (from July 1, 2013, through June 30, 2018). The report analyzed the performance and activity of law firms and attorneys representing Petitioners and Patent Owners. For more information, visit the Patexia website.
About Duane Morris
The Intellectual Property practice at international law firm Duane Morris is recognized as one of the leading IP groups in the United States, handling patents, trademarks, copyrights and related IP litigation. Our attorneys have extensive trial experience as lead counsel in litigation before state and federal courts, as well as unique trial experience within the U.S. Patent and Trademark Office (USPTO), to help clients take advantage of, and respond to, inter partes review (IPR). We advise clients on the merits and desirability of instituting parallel proceedings before the USPTO as well as with regard to defending their patents during these proceedings. Understanding the importance of this area, the firm has established a group focused on the specifics of IPR practice, comprised of attorneys with extensive procedural, technical and litigation experience, as well as oral advocacy skills, required to approach the specialized area with the best possible team.