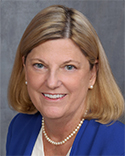 Julie S. Mebane
SAN DIEGO, November 5, 2018—Duane Morris LLP partner Julie S. Mebane received the fourth annual Duane Morris Pro Bono Leadership Award, which recognizes an attorney who exemplifies the spirit of pro bono: a selfless, long-standing and unwavering commitment to pro bono service; a leader by example who accepts pro bono matters without fanfare; and a pro bono contributor who encourages and mentors other firm attorneys in pro bono service. Mebane was honored with the award at Duane Morris' annual firm meeting.
Mebane was recognized for her long-term pro bono efforts with several nonprofits in San Diego and Southern California. As a vice chancellor of the Episcopal Diocese of San Diego, she has represented the diocese and various mission churches pro bono in real estate transactions. She also supported Habitat for Humanity of Greater Los Angeles in connection with matters related to a real estate development project in Los Angeles.
In summer 2018, Mebane accepted representations of two young Guatemalan boys and one four-year-old Guatemalan girl who were separated from their respective parents after entering the United States seeking asylum. She helped to reunify the children with their parents and family members in the United States. Mebane has also been involved in the ABA Military Law Pro Bono Project, where she has assisted individual service members and military attorneys in legal matters. Her pro bono experience also includes arranging and assisting in representing MarineParents.com, a public charity founded in 2003 to support Marines and their families, in connection with the successful negotiation of a trademark licensing agreement with the U.S. Marine Corps. Additionally, Mebane assisted in the legal formation of and advised a San Diego area cancer patients' support group.
Mebane practices in the area of real estate law, with particular emphasis upon commercial real estate purchases, sales, loans and secured lending, and commercial, industrial and office leases. She has related experience in compliance with mapping and other development conditions, escrows, title issues, redevelopment projects, hazardous materials, easement concerns and property license agreements. Mebane has represented a diverse base of clients, including large corporate developers, educational institutions, public utility and power companies, landlords and tenants, owners of smaller real estate portfolios, single-property investors and developers, and high-end residential buyers and sellers.
Mebane is a graduate of the University of California, Los Angeles School of Law (J.D., 1981), where she was editor-in-chief of the UCLA-Alaska Law Review, and a Phi Beta Kappa graduate of the University of California, Los Angeles (B.A., 1978).
About the Duane Morris Pro Bono Program
The goal of Duane Morris' pro bono program is to provide free legal services to those in our communities least able to afford legal services, and usually to those who have a dire need of such services. The importance of pro bono work and volunteerism has been an integral part of Duane Morris' culture and the backbone of our value system since the firm's founding more than 110 years ago.
About Duane Morris
Duane Morris LLP provides innovative solutions to today's multifaceted legal and business challenges through the collegial and collaborative culture of its more than 800 attorneys in offices across the United States and internationally. The firm represents a broad range of clients, spanning all major practices and industries.