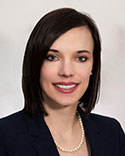 Katharyn I. Christian McGee
PHILADELPHIA, October 15, 2020—Duane Morris pro bono counsel Katharyn I. Christian McGee has been recognized with a Next Generation Leader Award by United Way of Greater Philadelphia and Southern New Jersey. The award is given to a woman age 40 or under who has not only accomplished exemplary professional success, but also shares a deep commitment to give, advocate and volunteer. McGee was honored at the 2020 Women United Virtual Gala on October 14, 2020.
McGee leads Duane Morris' pro bono program. She supervises and coordinates the firm's delivery of pro bono legal services, including outreach to bar associations, public interest organizations and business entities globally. McGee also works to enhance involvement by firm personnel and provide training for new attorneys and summer associates. She maintains a substantive practice focused on aiding survivors of trauma and gender-based violence with immigration relief, veterans/social security benefits, and family and anti-trafficking matters, as well as reproductive health matters. McGee serves as a liaison to the Duane Morris Diversity & Inclusion committee. She has worked with the Southern Poverty Law Center and the National Law Center on Homelessness and Poverty, among other pro bono legal services organizations. McGee has received numerous honors for her public interest work.
McGee is a graduate of the University of Alabama Law School (J.D., cum laude, 2008) where she obtained a certificate in Public Interest Law and was editor-in-chief of The Journal of the Legal Profession. She also is a graduate of Vanderbilt University (B.A., magna cum laude, 2005), where she was elected to Phi Beta Kappa.
About United Way of Philadelphia and Southern New Jersey
United Way of Greater Philadelphia and Southern New Jersey, serving communities in Pennsylvania's Chester, Delaware, Montgomery and Philadelphia Counties, and New Jersey's Atlantic, Burlington, Camden, Cape May and Cumberland counties, is part of a national network of more than 1,300 locally governed organizations that work to create lasting positive changes in communities and in people's lives. United Way fights for the health, education and financial stability of every person in every community. In Greater Philadelphia and Southern New Jersey, United Way fights for youth success and family stability because we LIVE UNITED against intergenerational poverty. For more information about United Way of Greater Philadelphia and Southern New Jersey visit www.UnitedForImpact.org.
About Duane Morris
Duane Morris LLP provides innovative solutions to today's multifaceted legal and business challenges through the collegial and collaborative culture of its more than 800 attorneys in offices across the United States and internationally. The firm represents a broad array of clients, spanning all major practices and industries.