PHILADELPHIA, October 25, 2023—The Duane Morris Women's Impact Network for Success (WINS) has honored two attorneys for their efforts to advance women in the legal profession. New York partner Eve I. Klein received the Cheryl Bryson Leadership Award. Austin partner Tracy L. McCreightt received the Margery Reed Professional Excellence Award. Klein and McCreight received the awards at Duane Morris' annual firmwide meeting.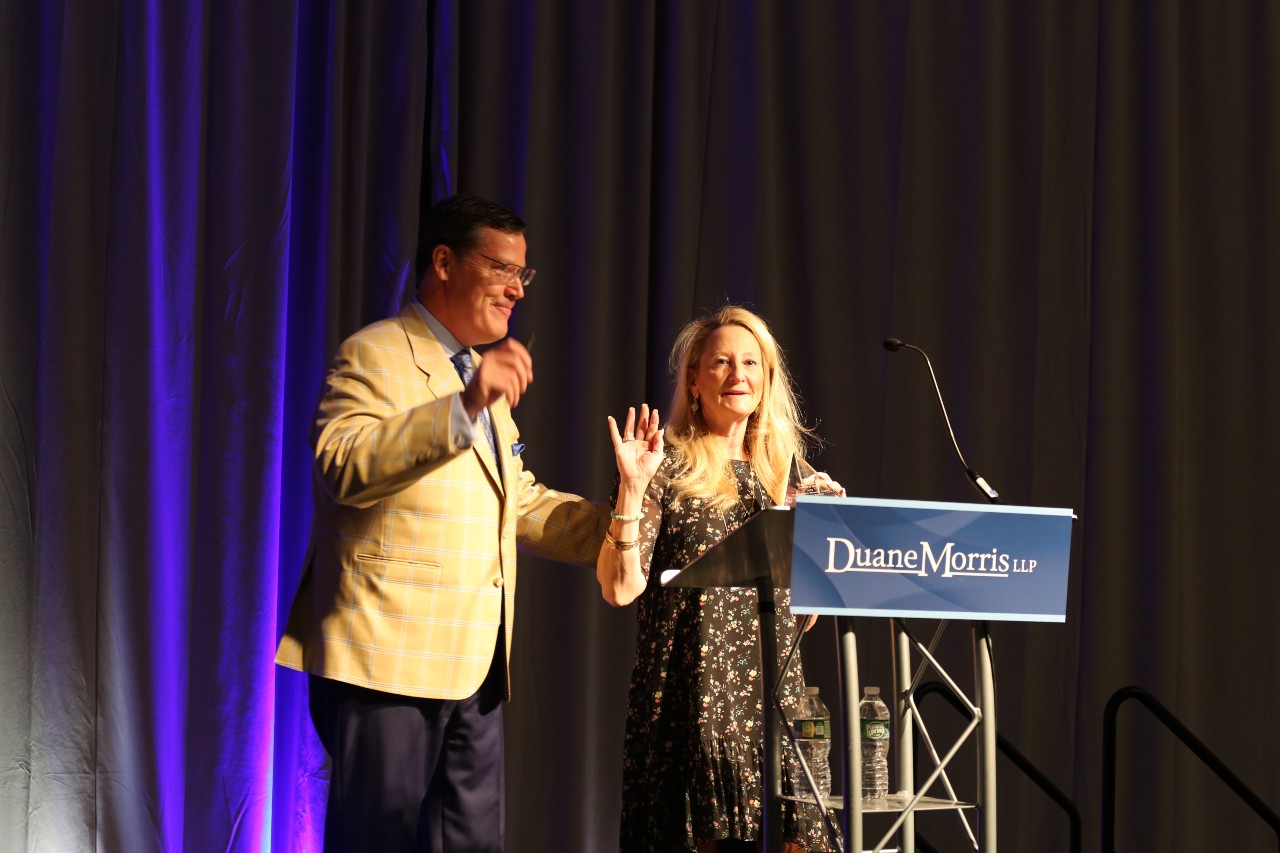 Eve Klein accepts the Cheryl Bryson Leadershp Award from Chairman and CEO Matt Taylor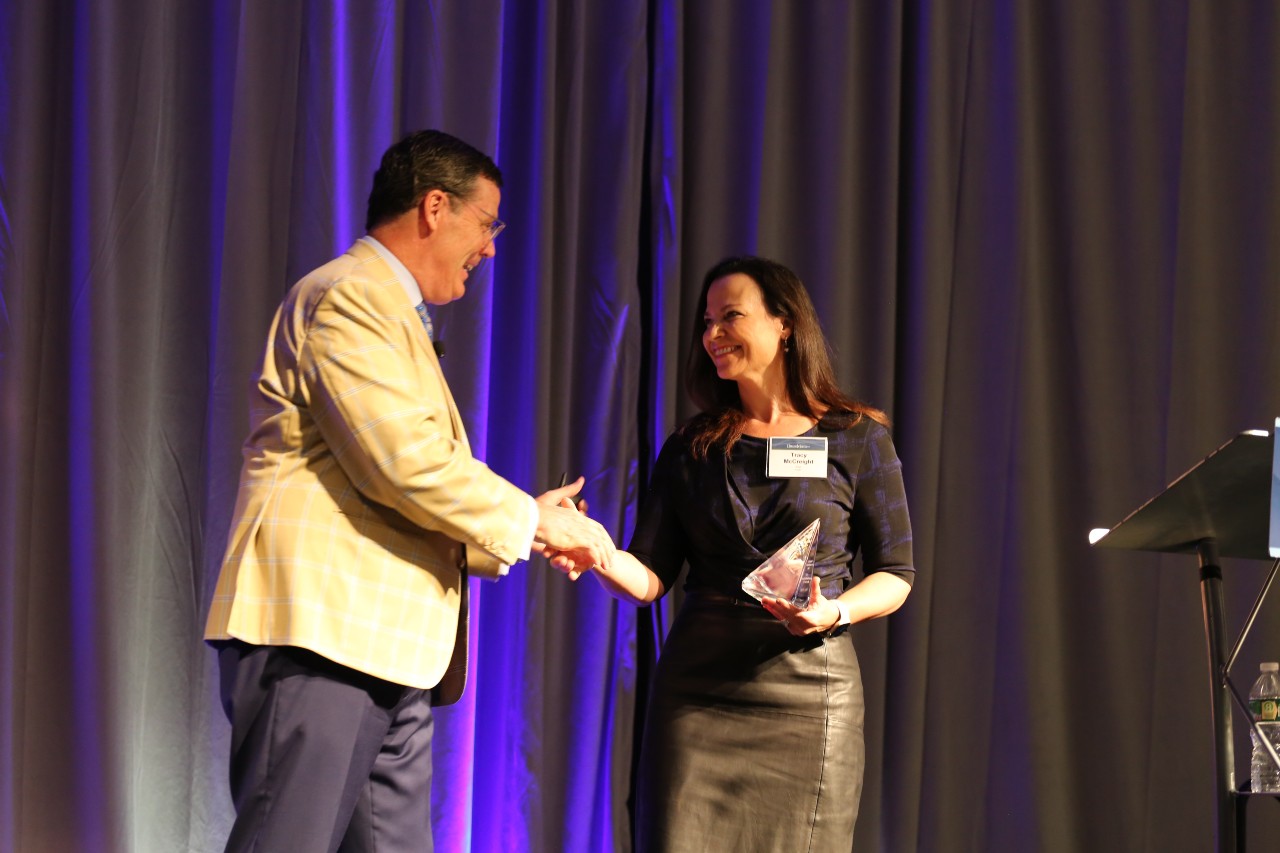 Tracy McCreight accepts the Margery Reed Professional Excellence Award from Chairman and CEO Matt Taylor
The Cheryl Bryson Leadership Award recognizes significant contributions to women in the profession, including professional development of women lawyers and the advancement of women lawyers in the profession. The award is named in honor of the late Cheryl Blackwell Bryson, a Duane Morris partner in Chicago who was a leader in many significant civic and community causes, and repeatedly honored throughout her career as a major pioneer, both as a woman lawyer and as a lawyer of color.
The Margery Reed Professional Excellence Award recognizes significant contributions toward creating, modeling and/or mentoring others regarding issues of work-life management. The award is named in honor of the late Margery Reed, a Duane Morris partner in Philadelphia. Reed was the recipient of numerous awards, including her admission as a fellow in the prestigious American College of Bankruptcy. She was repeatedly recognized as one of the best commercial bankruptcy lawyers in the country. A consummate partner, Reed was incomparably selfless in giving of her time and talents to assist her colleagues and mentor junior lawyers. She was a true professional in every sense, and her unwavering commitment to her clients and colleagues, the firm and the profession of law is the reason this award for professional excellence is given in her name.
Despite the intense workload of her practice and her position as chair of the Duane Morris Employment, Labor, Benefits and Immigration Practice Group, Eve I. Klein has also devoted countless hours of her career to mentoring and developing young attorneys and women lawyers. Klein has over 30 years of experience representing businesses in all aspects of employment law, management labor relations and employment-related litigation. She is a frequent speaker on employment and labor issues for clients, business groups and educational institutions.
Embodying the focused, professional excellence of Margery Reed, Tracy L. McCreight practices in all aspects of complex commercial litigation and construction litigation, including contract, real estate, general business and partnership disputes, including pre-litigation dispute resolution. With more than 20 years of experience, McCreight is a trusted adviser to her clients. Her practice includes extensive experience in Texas state courts, federal courts and various arbitration forums, on both sides of the docket. In her construction practice, McCreight focuses on representing commercial owners in construction defect matters and contract disputes. She serves on the firm's Professional Standards Committee, as well as on the steering committee for WINS. Throughout her time at Duane Morris, McCreight has mentored young lawyers and has participated in pro bono activities.
About the Duane Morris Women's Impact Network for Success
WINS is devoted to the success of the firm's women attorneys. Through various programs, it exchanges ideas, fosters and expands business contacts and opportunities, and enhances attorney development to fully realize the talent, knowledge and potential of Duane Morris' women attorneys.
About Duane Morris
Duane Morris LLP provides innovative solutions to today's multifaceted legal and business challenges through the collegial and collaborative culture of its more than 900 attorneys in offices across the United States and internationally. The firm represents a broad array of clients, spanning all major practices and industries. Duane Morris has been recognized by BTI Consulting as both a client service leader and a highly recommended law firm.