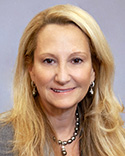 NEW YORK, January 16, 2018—Duane Morris LLP has named partner Eve I. Klein as chair of the firm's Employment, Labor, Benefits and Immigration Practice Group.
"We're thrilled to name Eve chair of our Employment, Labor, Benefits and Immigration Practice Group," said Thomas G. Servodidio, whom Klein succeeds as head of the practice group. "She has handled some of the most complex matters in our group and has been recognized as one of our best throughout her 20 years with the firm. I know she'll be able to capitalize on her experience to continue the group's growth and client service success."
Klein was recently named one of the 100 leading women lawyers in New York City by Crain's New York Business.
Servodidio is now serving as vice chair of Duane Morris after having chaired the ELBI practice group for the last 16 years.
Klein practices in the area of employment law, labor relations and litigation. She has substantial experience in representing management in collective bargaining and in issues involving union representation under the National Labor Relations Act. Klein also has extensive experience advising clients about their rights and obligations regarding laws and regulations which affect the workplace, including employment discrimination statutes, family and medical leave laws, recruitment and work eligibility rules and regulations, plant closing restrictions, wage and hour rules, employment contracts, restrictive covenants, tort laws and employee benefits rules. Klein has also acted as editor of practice group seminar materials, newsletters and client alerts regarding employment and labor law developments.
Among Klein's recent litigation successes include:
A Second Circuit appeal affirming dismissal on summary judgment of a race discrimination claim against a healthcare provider
A Connecticut Supreme Court appeal reversing the Connecticut Department of Labor's determination that incorrectly classified installers of a nationwide homebuilder as employees rather than independent contractors
Denial by the New York State Supreme Court after trial of a preliminary injunction sought by a network hardware distributor's competitor seeking to enforce a restrictive covenant
An order from a New York federal district court staying arbitration on the ground the dispute arose after a collective bargaining agreement's expiration
Dismissals of two cases filed under the Labor Management Relations Act and the New York State Human Rights Law before a New York federal district court.
Klein is a graduate of Cornell Law School and a graduate, with distinction, of the Cornell University School of Industrial and Labor Relations.
About Duane Morris' Employment, Labor, Benefits and Immigration Practice Group
Duane Morris' Employment, Labor, Benefits and Immigration Practice Group, comprising 70 lawyers, provides clients with a wide spectrum of global services—from timely advice on regulatory issues through litigation developments. Our clients benefit from the integration of employment, labor, benefits and immigration services in order to meet the complexities of today's business environment. Duane Morris' lawyers offer practical counseling designed to help clients achieve their business objectives and resolve potentially disruptive labor and employment disputes.
About Duane Morris
Duane Morris LLP provides innovative solutions to today's multifaceted legal and business challenges through the collegial and collaborative culture of its more than 800 attorneys in offices across the United States and internationally. The firm represents a broad array of clients, spanning all major practices and industries.