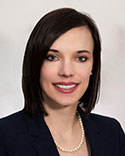 Katharyn Christian McGee
Duane Morris LLP pro bono counsel Katharyn Ivera Christian McGee has been named to The Legal Intelligencer's 2020 Pennsylvania Lawyers on the Fast Track list.
Nominees were evaluated by a panel composed of members of the Pennsylvania legal community from across the state. Candidates were then selected based on their advancement of law, representative client engagements, advocacy and community contributions, service to the bar, and peer and public recognitions.
Below is an excerpt from McGee's profile:
McGee serves as the firm's pro bono counsel and leads the firmwide pro bono program. She supervises and coordinates the firm's delivery of pro bono legal services, including outreach to bar associations, public interest organizations, and business entities. McGee also works to enhance involvement by firm personnel and provide training for new attorneys and summer associates.
As the firm's pro bono counsel, McGee leads the pro bono program. She interfaces with multiple pro bono referral agencies around the country, oversees the intake and assignment of all pro bono matters to all the firm's lawyers, and provides regular pro bono training in a number of practice areas, including immigration, estate planning, and veterans affairs.
McGee leads pro bono partnerships with several firm clients, including Comcast, Ford and others, which brings the firm's lawyers together with in-house lawyers on significant pro bono initiatives.
For more information, please visit The Legal Intelligencer website.