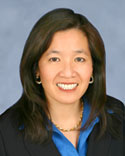 SAN DIEGO, November 14, 2013—Duane Morris is pleased to announce that partner Vicki G. Norton, Ph.D. has been named the Issues Leader for the American Intellectual Property Law Association's (AIPLA) Biotechnology Committee.
The Biotech Committee serves as a resource, advocate and open forum for biotechnology patent practitioners and for the AIPLA generally on biotech positions. As issues leader, Norton oversees and reports on the activities of the Biosimilars, Diagnostics and Gene Patenting, Industrial Biotech, Biotech Litigation, PTAB Actions, Plant biotech, and the Technology Transfer and Licensing Subcommittees as they report on timely biotech matters impacting biotechnology intellectual property.
Vicki G. Norton, Ph.D., practices in the area of intellectual property law with a focus on biotechnology and chemical patent counseling and litigation. She also advises clients on worldwide patent strategy, including identifying patent coverage issues, auditing technology portfolios to assist clients in transactions and venture opportunities and formulating strategic objectives for prosecution. She has handled patent matters in a variety of industries, including biotechnology, biopharmaceuticals and small molecule pharmaceuticals, relating to engineering transgenic plants and cells, biochemistry, methods to screen and make gas-absorbing materials, stem cell technologies, molecular biology, nanotechnology, immunology, combinatorial chemistry, probe amplification assays, diagnostics, nutraceuticals, microbiology, and therapeutic drugs and devices for physical therapy. Norton has also advised clients on all facets of litigation involving technologies including biopharmaceuticals, transgenic organisms, small molecules and nanotechnology.
Prior to attending law school, Norton served as a research and teaching assistant at the University of California, Davis, where she conducted research on histone acetylation and chromatin structure for her doctoral thesis.
Norton is a 1994 graduate of the University of California, Los Angeles School of Law, where she was managing editor of the UCLA Law Review and elected to the Order of the Coif, and a graduate of the University of California, Davis (Ph.D., Biochemistry and Biophysics; B.S., summa cum laude, Biochemistry).
About Duane Morris
Duane Morris LLP, a law firm with more than 700 attorneys in offices across the Unites States and internationally, is asked by a broad array of clients to provide innovative solutions to today's legal and business challenges.