Alumni
Alumni Profiles
David Frank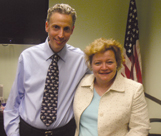 When David Frank joined Duane Morris as an associate in 1988, he never thought he would land dream jobs as a presidential appointee and then with the U.S. Air Force. Now as Associate General Counsel for Civilian Personnel Policy at the Department of the Air Force, David says that, in looking back, his time with Duane Morris set the course for a career with a fascinating trajectory.
David, pictured left with former Assistant Secretary of Labor Victoria Lipnic, current Commissioner of the EEOC, advises on the employment law issues that affect the Air Force's 180,000 civilian employees. He oversees legal and policy matters involving civilian personnel, equal employment opportunity (EEO) issues, prohibited personnel practices, and labor relations in the Office of the General Counsel. Before joining the Air Force, he served as the deputy director of the Office of Federal Contract Compliance Programs (OFCCP)—the civil rights enforcement agency of the U.S. Department of Labor (DOL)—where he handled agency policy development and the enforcement of laws requiring federal contractors and subcontractors to provide equal employment opportunities.
Q: What made you choose to join Duane Morris?
A: I came to Duane Morris in 1988. It was a good experience and valuable, as I have spent so much time since doing regulatory and employment law work. The funny thing is I spent seven years telling clients who had to totally rethink aspects of their business when both the FMLA and the Americans with Disabilities Act (ADA) passed: "Don't blame me, I don't write the laws." Then, I went on to actually write legislation. I helped write the new ADA Amendments Act when I represented the administration in negotiations with folks on the Hill and interest groups.
Q: Who was your mentor at Duane Morris?
A: My mentor was Roland Morris. I did a lot of work with him on sophisticated multiemployer pension cases. He was the person who took the most interest in my career.
Q: After Duane Morris, you landed a significant government role, despite not having much experience in politics. How did that happen?
A: I sent my resume in cold to the incoming chairman of the House Labor Committee. After the Republicans took over the House, the subcommittee chairman responsible for health, pensions, labor and EEOC was looking for a good labor lawyer. He was a "policy wonk," meaning he actually read the text of bills. He wanted someone who was knowledgeable, not a politician. I had the minimum Republican qualifications and no more. Fortunately, he was more interested in my abilities than my connections. Basically, I built on what I did at Duane Morris. I had ERISA experience. There weren't many lawyers with ERISA experience, so doing that multiemployer work at Duane Morris was beneficial.
Q: In your next role, you became legal counsel for EEOC. What was that like?
A: It was a challenge and a lot of fun. I oversaw a staff of 60 lawyers, doing both the agency policy work and the inhouse legal work. We put out regulations on retiree health, including one of few exemptions to the Age Discrimination in Employment Act, to try to preserve retiree health benefits. I was there for three years, before moving on to the Department of Labor. There, I helped work on the FMLA regulations that came out at the end of the Bush administration.
Q: Then you became deputy director of the OFCCP.
A: Yes, that was the most fun of all of the jobs. I oversaw an 800-person agency and got to do policy, set enforcement goals and determine our priorities. I dealt with large corporations who were federal contractors. In that role, if you are fixing a problem, you are fixing it for a lot of people, which is a very good feeling. Then as the administration was winding down, I figured I needed to find a "real job." I advise on all policy issues involving the Air Force's employment relationship with its large, worldwide civilian workforce. I look at all the legal issues around Air Force employment policies and advise on novel legal issues. We have revised the EEO complaint processing directives, regulations by which we enforce EEO laws, and created a new diversity office in the Air Force. It is a unique environment where we have military people supervising civilians and civilians supervising military people. It is a motivated and engaged, high-performing workforce.
Q: What do you like to do when you are not working?
A: My kids keep me busy. They are 14 and 11 years old. Rebecca is into drama, and Daniel is into basketball and airplanes. He loves to walk around the Pentagon and says, "This is so cool" with his mouth open.