Alumni
Alumni Profiles - Jamie Dyce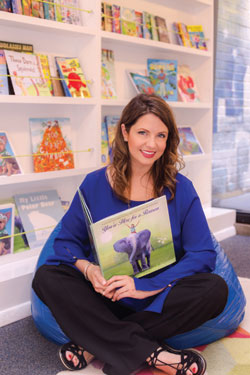 Jamie Dyce
Jamie Dyce joined Duane Morris in 2009 as an associate in the Wealth Planning Practice Group in New York. During her tenure, she was actively involved with the Firm's support of Pajama Program, a nonprofit organization committed to providing children with a caring bedtime ritual through the magical gifts of pajamas and books. In September 2016, Jamie joined the organization as Director and assumed the role of Executive Director in May 2017.
Describe your day-to-day job at Pajama Program.
When I started full time at Pajama Program, I focused first on working with the Board of Directors to formulate a new strategic plan, addressing many of the questions that have arisen as the organization has grown exponentially over the last two to three years. I have devoted much time to evaluating the big picture for Pajama Program's next chapter, seeking consensus from many of our stakeholders so that the vision is shared by everyone at Pajama Program. It is an evolving process, and I spend my days working backwards from that vision to make it a reality. The analytical skills I honed as an attorney and my love of being creative enable me to feel confident in a natural way. I genuinely love what I do and I remain inspired by the opportunity I have to continue and expand the mission of this incredible organization.
Was there anything at Duane Morris that lead to your involvement with the cause?
I had just started at the firm and an email from Lawyers Alliance caught my eye. In fine print at the bottom, there was a request not for legal services, but for volunteers to share stories with children at a reading center nearby and give them new pajamas and books for bedtime. Curling up with a good book in pajamas is probably one of the best ways to escape whatever is going on your life at the present moment. A good story captures the imagination and can take you anywhere. I certainly felt that way as a child, and still do today. The thought that children everywhere do not regularly experience this pastime disturbed me, so much so that it led me to create our Good Night Bill of Rights for children.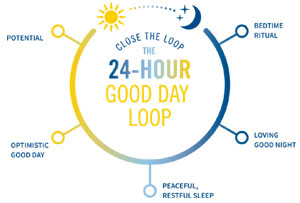 Jamie Dyce
The concept of every child having a right to a good night— rather than "deserving" a good night—is what compelled me. A child shouldn't have to earn a good night's rest and peaceful sleep; it's an inherent right, one that we should protect so that all children (not just the more fortunate ones) can thrive the following day. My strong feelings about equality originate partially from my legal background, but empathy is one of my own personal core values and it dictates my work and actions. It's important that we continually put ourselves in the shoes of those we serve to maintain clarity around our work at Pajama Program. At Duane Morris, I learned much about this concept through my work with the girls we represented from GEMS [Girls Educational & Mentoring Services] who had survived trafficking. The girls weren't looking for a savior, but for someone to see their humanity, beyond the labels that were assigned to them.
Similarly, the children we serve at Pajama Program need us to see them and advocate for their good night rights. As it turns out, the Good Night Bill of Rights was the catalyst for my departure from practicing law. I had been volunteering and serving as Chair of the Board of Directors when the founder, Genevieve Piturro, asked me if leaving the law was something I would ever consider. When Genevieve said that she saw me as her successor, I knew my answer instantly.
In your new role as Executive Director, what are a few of your goals for the organization?
This is a great time to be at Pajama Program, now in our 17th year. We continue to grow at a fast pace due to key partnerships, and now my job is to lead us as we scale for expansion, elevating our national profile. In my new role, I am steering our mission in a new direction. It can be a delicate process, though, as I'm trying to create effective change through evolution, not revolution.
With the Good Night Bill of Rights as our foundation, we've clarified our purpose for the rest of the world. Our mission is to support every child's right to a good night for a good day. We've done an incredible job so far of delivering over 5 million good nights through our gifts of new pajamas and books—the tools for a good night. But now I am ready to lead us into the next phase—teaching the adults in the lives of the children we serve about the bedtime routine, sleep and the benefits for children.
Long after they outgrow our pajamas and the pages of the books become worn, the children still need our support. Children do not control how or where they go to sleep at night—the adults in their lives do. Therefore, my new vision for Pajama Program is to increase our long-term impact by raising awareness around the importance of establishing a bedtime routine for children so that they experience deep, restorative sleep, which in turn leads to better days and self-actualization. The children we serve are entitled to the brightest possible futures, and our goal is to do all that we can to ensure their days, and nights, are complete.
Tell us about your best memory of working at Duane Morris.
My best memory is not limited to one specific event—although there are many occasions that I could certainly rattle off, from the moment I met Michael Grohman (ironically, we wound up talking about art in children's literature the first time we met), to my last day on the 12th floor at 1540 Broadway. It was all of the simpler moments I spent with my Duane Morris family that are imprinted on my heart. The relationships I formed with so many colleagues that are permanent are what I will treasure. For me, Duane Morris was always about the people, and always will be. I am incredibly grateful to have been given the opportunity not only to practice law among such a talented group, but to have learned so much about myself through the relationships I built with so many kind, smart, hilarious, complex, honest and giving people. Everyone had such an impact on my life in ways large and small, but if it were not for Michael, I would not be where I am today.
What do you enjoy doing when you are not working or volunteering?
Other than reading a good book, I love being a first-time aunt to my new nephew, Geoffy. I also enjoy anything outdoors like riding my bike in Central Park, traveling someplace I have never been (Patagonia and the opposite end of the earth to see the Northern Lights are at the top of my list), Pilates, painting and, admittedly, this answer would be incomplete unless I added seeing Pearl Jam live.
What is your favorite children's book?
I have so many favorites, it's hard to choose just one. And I'll confess that to this day I still love reading children's books (now they line my shelves at work as well as at home). Some favorites include anything by Roald Dahl, but especially The BFG for the sweet relationship Sophie shares with an unlikely friend. I also loved the Madeline books growing up and still do today. My dreams of France began with an "old house in Paris that was covered with vines." Children's books with a strong female heroine draw me in because they teach children (especially girls) that they're capable of anything.
Separately, for a hilarious and current read, check out The Book With No Pictures, by B.J. Novak. Find a buttoned-up adult and make them read this to a child—priceless.

Pajama Program is looking to collaborate with corporate and community partners. Visit

pajamaprogram.org

to learn more about the organization and how you can get involved.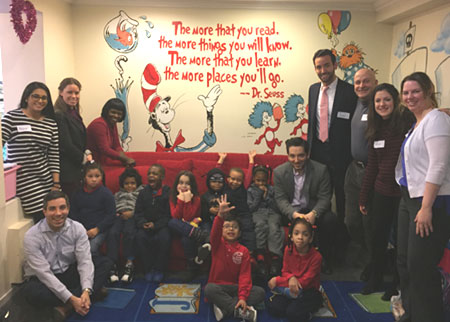 Duane Morris proudly supports Pajama Program. In February 2017, our New York office
volunteered at a reading party at the Pajama Program Reading Center.