Alumni
Alumni Profiles
Alison Lazerwitz
Attorney at Duane Morris from 1981-1987
Currently Senior Vice President and General Counsel at Swarovski Corporation AG
When she joined Daniel Swarovski Corporation AG, the leading maker of cut crystal, former Duane Morris associate Alison Lazerwitz added even more sparkle to an already eye-catching CV. While well-known in the United States for its products, especially crystal figurines as well as costume and couture jewelry and accessories, Swarovski is legendary in Europe. According to Forbes, the name Swarovski in Austria is tantamount to the name Rockefeller in the United States.
Of course, Alison is no stranger to leading legal teams at large, global companies. She previously held in-house positions at food service giants ARAMARK and Sodexo as well as having earlier created the in-house legal department at prominent regional food service firm, The Wood Company, based in Allentown, Pa. As the chief lawyer at Swarovski, a $2 billion privately held global company based in Zurich, Alison manages a legal and compliance department of lawyers in offices around the world—in Europe, the United States and Asia.
What enabled this New Jersey-native and former Philadelphia litigation associate to land the top in-house spot in a European financial capital? The willingness and ability to embrace change and to keep focused on a sound legal principle she says she learned from former partners like the late Henry Reath and (now Judge) Michael Baylson: It's "the client's situation and the client comes first."
Q: How would you describe your recent career transitions that took you from Sodexo in Paris to the general counsel of Swarovski?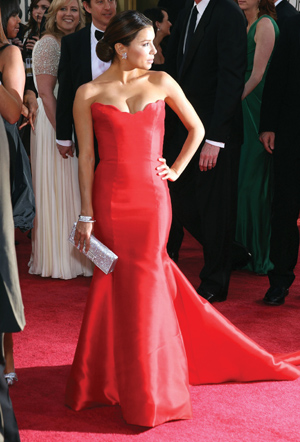 The actress Eva Longoria carrying a Swarovski crystal-
studded bag. Photo courtesy of Swarovski.
A: Actually, it's been a combination of several key changes. I learned a great deal about international business and cultural differences as well as how to manage a team while I was at Sodexo. I left the United States in 2002 to join Sodexo in its Paris headquarters as International Counsel. I was then promoted to chief legal officer, and most recently, I was appointed as the Senior Vice President, International Development. After leaving Sodexo in 2010, I was ready for a new challenge, away from the outsourced services sector. It has been a great adventure. I have been in the role for nearly a year, since February 2011. The companies are very different. Swarovski is a fifth-generation Austrian family business that is privately held. I manage a legal department of approximately 40 professional and staff positions and the product compliance department also reports to me. My direct and indirect reports sit in six offices around the world, from the United States to Singapore.
What I learned in making this last transition is that my skills translate from one industry to the next. In the role of general counsel, you are an advisor to a business, and in order to be successful, you have to understand the business' key drivers. I've tried to hone that skill as an in-house counsel and senior manager. This move confirmed for me that my hypothesis was correct. It was a conscious decision on my part to see if I could successfully switch industries.
Q: How did your seven years at Duane Morris influence your career?
A: So much! Whatever qualities I have as a lawyer, I have them because of Duane Morris. I was a summer associate in 1980 when the [Philadelphia office] was in the Land Title Building. I go back a very long time, some would say ancient history. I joined the litigation department in the fall of 1981 when Henry Reath was head of the department. I left the firm in the winter of 1987 for ARA Services, now ARAMARK. Tom Hyndman was managing partner at the time. The hardest day of my career at the time, and even until today, was walking into Mr. Reath's and then Mr. Hyndman's offices and resigning. Nobody left the firm then: It was impossible to think about! It was a different time.
The concept of "completed staff work" is a concept I teach my colleagues to this day, and I expect accountability for one's own work and actions. These influences are so much a part of me, it is hard to remember a time when they were not part of my daily work routine.
A Swarovski bracelet and clutch, worn by actress Zhang
Ziyi. Photo courtesy of Swarovski.
Q: What influenced your decision to leave?
A: I had grown up at Duane Morris, and I had planned to stay for "life." In fact, I continue to speak about Duane Morris in the first person—as in, "my firm,"—not only because some of my oldest and best friends are there, but also because it has always been home for me professionally. As for being a litigator, though—I didn't love the fight. My mentors at Duane Morris were consummate litigators. Henry Reath was a lion of a man and a litigator. I thought in order to be a successful litigator, you needed to become alive in the courtroom. I knew I wanted to do something different.
Q: Tell us about the path to your role now.
A: When I left Duane Morris in 1987, I went to ARA Services, which is now ARAMARK. I was responsible for the legal work for two divisions, with a revenue of about $4 billion. It was a great opportunity for me to learn how to be a generalist, because I had responsibility for all legal issues facing my divisions. I went from being a division lawyer there to being General Counsel of a regional food-services company called The Wood Company, then a $600 million company in Allentown, Pa. The Wood Company was acquired by Sodexo, an international listed company, in 2001. After the acquisition, I joined Sodexo SA as International Counsel and I moved to Paris. During the nine years that I was with Sodexo, I became Chief Legal Officer and held that position for a number of years. Prior to leaving Sodexo, I joined the business side of Sodexo and created the role of Senior Vice President, International Development.
Q: How did you cope with leaving the United States and moving abroad?
A: Well, at the time I was living in Allentown, Pa., and I had the opportunity to move to Paris. It was a very simple choice! On a more serious note, it was at a very good point in my career to take the challenge, and to try to learn as much from the opportunity as I could. I think I underestimated the risks associated with living in France. For example, I had not spoken French since I was a senior in high school. Paris was an irresistible draw, however, and I have never regretted my decision.
Q: When you took the GC job at Swarovski in Zurich, it meant moving to a new industry. What is the most interesting part of your job at Swarovski?
A: The variety of the world of Swarovski is undeniably a great feature. One interesting part of the job has been the role that the organization plays in the movie business. For example, Swarovski has a long history in the industry, and "placing" products in movies is an exciting feature of the collaboration. Our company works with costume designers and set designers on creating both fabulous and innovative products that are seen on screen and stage. Swarovski is also part of merchandising arrangements where products are sold exclusively through Swarovski channels. I recently negotiated one of these merchandising and "product placement" deals. It's a fascinating world. Partnership agreements can be a win-win for both sides. Intellectual property and branding issues come into play, in addition to commercial terms of the contract. This work combines a lot of strands from my experience and weaves them into a different pattern.
Q: What do you like to do when you are not working?
A: When I was in France, I loved to explore the countryside and get to know the art, the food and the wine of an amazing country and culture. I've done a lot of traveling, particularly in the countryside of France and in Europe. Paris was a cornucopia of culture: the opera, the ballet, the art. You just walk the streets, and it's a treasure chest. I'm still getting to know my new home, and Zurich and the Swiss have so much to offer in terms of culture, outdoor sports and scenery and close proximity to many other European cities.
Q: You've mentioned that the mentoring you enjoyed at Duane Morris was an important part of your professional development. How do you now mentor others?
A: I've recently been appointed to the Board of the European Network for Women in Leadership. It's very important to me to help women who are at different stages of their careers. I also am privileged to informally mentor a number of colleagues at Swarovski, both men and women. So many people helped me develop as a professional.
I am confident that the kind of lawyer I am and the skills I have developed by placing my clients' interests first above all else come from my seven years at Duane Morris. I tell people who I mentor about Henry Reath, Morris Duane, Mike Baylson, Gene Pratter, Bob Pratter, Jane Dalton, Barbara Adams, Jack May, Midge Rendell and Dave Sykes. I continue to correspond quite often with a variety of people from the firm, both current lawyers and alumni. They are family. I recently had an opportunity to look to outside counsel for some legal advice and asked a number of law firms, including Duane Morris, for that advice. In a conversation with some Duane Morris lawyers, I recently caught myself saying "we" and I meant Duane Morris. I haven't worked at the firm since 1987—and I'm still saying "we!"