Alumni
Alumni Profiles
Steve Mallozzi
Attorney at Duane Morris from 1997-2006
Currently Vice President and Associate General Counsel-Litigation at ARAMARK
Q: What do you look for in outside legal counsel?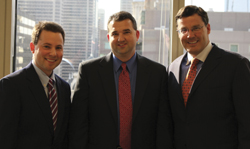 Former Duane Morris partner Steve Mallozzi (left), now the Vice President and Associate General Counsel-Litigation at ARAMARK, with Duane Morris partners Jonathan Swichar and Matt Taylor.
It was no surprise to Matt Taylor, Chairman of the Trial Practice Group at Duane Morris, when Steve Mallozzi was promoted at ARAMARK this spring to his new role overseeing the company's global litigation. "Steve was a leader and a real star in our Duane Morris Trial Practice Group," says Matt. "He was someone that you wanted involved for a client in the toughest cases." After serving as the general counsel for ARAMARK's Education (K-12) business line for 5 1/2 years, Steve now leads the company's Litigation Team and is responsible for overseeing all of its litigation in the U.S., including all commercial, contract and employment disputes. ARAMARK's Litigation Team also coordinates and manages the company's responses to government investigations, regulatory enforcement actions and third-party subpoenas and provides antitrust counseling to the corporation. In addition to managing employment practices litigation, the Litigation Team is also responsible for wage-and-hour compliance across all of ARAMARK's operations in the U.S., and works closely with colleagues overseas to ensure the appropriate handling of litigation matters and government investigations pending outside of the United States. ARAMARK is a $13 billion world leader in professional management services and an award-winning food services, facilities management, and uniform and career apparel provider to healthcare institutions, universities and school districts, stadiums and arenas, and businesses around the world. The company is recognized as the industry leader in Fortune magazine's "World's Most Admired Companies," and as one of America's largest private companies by both Fortune and Forbes magazines. Steve spoke with Spotlight about his new role and what he looks for in his outside legal counsel.
Q: Your recent promotion changes the scope of your role significantly. Can you describe your new job at ARAMARK?
A: I am now responsible for overseeing all litigation and government investigations at ARAMARK for all of our domestic lines of business and international operations. This includes our insured litigation, our uninsured litigation, wage-and-hour compliance and government investigations. When I started at ARAMARK in August 2006, I served as the general counsel for ARAMARK's Education (K-12) line of business, which provides everything from food and facilities management services to property management and energy management services to school districts across the nation.
About a year ago, I was also fortunate enough to be given responsibility for employment litigation and wage-and-hour matters across all of ARAMARK, which showed me the value of consistent, scalable solutions. One of the primary goals in my new role is to further centralize ARAMARK's processes relating to the management of litigation and government investigations. This will require me to get to know and understand our businesses more deeply across multiple markets, sectors and geographies and to develop more robust and strategic relationships with outside counsel. While we have our go-to outside counsel for various issues, we will look to utilize our size and scale to develop more comprehensive programs for handling litigation and government investigations. Our commercial litigation program with Duane Morris, led by Jonathan Swichar, is an excellent example of a scalable litigation solution that delivers tremendous value for ARAMARK and Duane Morris and also creates significant efficiencies, both internally and externally. Through the program, we have worked with a number of Duane Morris lawyers and built a strong relational foundation that positions the firm well for additional opportunities to partner with us on our significant matters.
Q: How did you make the transition from a law firm to being in-house? What was attractive about the position?
A: If you went back six years ago and asked me about leaving Duane Morris, my answer would have been "no way, no how." I loved my practice, my clients and the people with whom I worked. Duane Morris is where I started my practice, and I expected it would be where I ended my career. When [former Duane Morris partner] John Ryan came over to ARAMARK in 2005, we talked about what the in-house roles were like. While I was intrigued by he potential opportunities, I wanted to continue trying cases and was not ready to leave the firm. Over the next year, as I learned more about the roles at ARAMARK and Bart Colli's [the former General Counsel of ARAMARK] and John's vision for the ARAMARK Legal Department, I decided it was the right opportunity for me.
I have thoroughly enjoyed the opportunity to participate in the recruitment and development of an incredibly talented group of lawyers at ARAMARK. In addition to John and me, we have six other former Duane Morris lawyers working at ARAMARK in various capacities (Katherine Kelton, Vice President of Compliance; Greg Lare and Bruce Hanson, Assistant General Counsels; Amanda Zullo, Contract Attorney; and Jennifer Feldman and Tracy Schwab, Employment Relations). Duane Morris lawyers have a strong work ethic, think quickly, are able to handle many different things simultaneously and possess a balanced perspective. They are able to assess legal issues and integrate them with the business concerns to obtain the best outcome. Katherine Kelton is a great example of these characteristics. After serving for several years as an Assistant General Counsel supporting our Healthcare line of business, Katherine was promoted and transferred out of the Legal Department and into the Healthcare line of business to serve as the Vice President of Compliance for that business, a highly coveted role reserved for the strongest performers within the company. We are incredibly proud of Katherine's accomplishments and are excited about her future career opportunities.
Q: Who were some of your mentors at Duane Morris?
A: I worked a great deal with Mike Mustokoff and Teresa Cavenagh in the early part of my career. Mike and Teresa were instrumental in my development as a young lawyer. I was also very fortunate because as my career progressed, I had the opportunity to work closely with many other Duane Morris partners like Mike Baylson, Nolan Atkinson and Lew Olshin. Without the diversity of issues and individuals with whom I worked, it would have been difficult for me to develop the breadth of skills and abilities that are required to be successful at ARAMARK. I was able to try a number of cases during my time at Duane Morris. That is something that most mid-level and senior associates might struggle to experience in today's legal environment, where cases go to trial so rarely. As a young lawyer at Duane Morris, I was a part of those cases that went the distance, and those early experiences positioned me well later in my career to be included in the most serious matters for the firm's clients.
Q: What do you look for in outside legal counsel?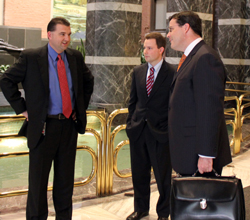 Former Duane Morris partner Steve Mallozzi (left), now the Vice President and Associate General Counsel-Litigation at ARAMARK, with Duane Morris partners Jonathan Swichar and Matt Taylor.
A: In addition to outstanding capabilities and experience, they need to deliver value and understand what that means. All too often lawyers compress the meaning of "value" into winning or losing, settling or not settling. Obviously the outcome is critical, but we want considerably more from our outside counsel. We need them to understand what we do, connect the dots between a matter and our business operations and know how they intersect. For example, because we operate for the most part in our clients' facilities, trust and integrity are absolutely critical to ARAMARK. This influences the manner in which we handle client disputes, regulatory matters and government investigations. The lawyers ARAMARK hires for legal work on the outside are those who spend the time and effort to get to know and understand us. We absolutely get that from the lawyers we work with at Duane Morris.
Q: What do you do when you are not working?
A: I enjoy spending time with my wife, Melissa, and our three children, ages 13, 11 and 4. My children are incredibly active and keep us very busy with things like dance competitions, lacrosse and soccer games, swim meets, music recitals, drama club and go-kart racing. When we get that rare weekend day with no events, we often spend it at one of the local amusement parks.