Alumni
Alumni Profiles
James A. Tricarico, Jr.
Attorney at Duane Morris from 2004-2006
Currently General Counsel and Principal, Edward Jones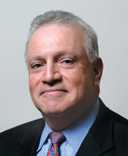 Q: What are your general responsibilities at Edward Jones?
A: I oversee both the legal department and the compliance divisions, which includes the branch audit function. I manage 11 attorneys in the legal department and another 18 in the compliance department. We handle all of the legal matters and relationships for Edward Jones. So whether it's a piece of litigation or a regulatory inquiry, counseling or employment - we really handle soup to nuts. On the compliance side, we also ensure that we have policies and procedures in place to comply with all of the applicable regulations.
Q: What motivated you to take the job?
A: It was a very nice opportunity and an exciting challenge. We're a large company with approximately 30,000 employees and 11,000 financial advisers. We have headquarters operations in St. Louis, Tempe, Arizona, the United Kingdom and Canada. For most of my career I have worked in house, with a focus on the retail securities business. [Jim was the General Counsel and Executive Vice President of Prudential Securities before entering private practice.] This was an opportunity to continue to do that on a very senior level at an exciting company with dynamic management. I'm on the executive and management committee of the firm. It's an interesting company and it was too exciting of a challenge to pass up.
Q: Any recent projects that you are particularly proud of?
A: We have been able to settle two very large class actions that were pending when I got here. In addition, we are building a law department that reflects the kind of work that we do and our growth. When I got here in 2006, there were six attorneys. Now there are 11.
Q: How did your experience in private practice prepare you for your current role?
A: It's interesting. I was in house for most of my career. My time in private practice really helped me to better understand what our outside counsel do and how. It has helped me to build better relationships that are more economically beneficial to both my firm and our outside counsel. I got a real insight into how our outside counsel work, and what we can do to be innovative in terms of getting good billing rates for us and maximizing the legal work. You don't necessarily want the cheapest lawyer out there, but the best lawyer for the client. You don't nickel and dime your outside counsel. I have a real appreciation for our outside counsel.
Q: Why do you choose Duane Morris as a legal services provider?
A: I'm still close to [partner and head of the Broker-Dealer & Securities Regulation practice] Loren Schechter. We came to Duane Morris together and were co-heads of the broker-dealer practice. We use the firm regularly. I have very good relationships there and have been impressed with the firm's growth.
Q: What do you want most out of a law firm?
A: The key is communication. I want to know what's going on as soon as it's going on. I want to make sure that we're getting prompt attention to our stuff. I don't like surprises. In the world of litigation there are always surprises, but at least I want to know what's pending and what could happen as soon as my lawyers know it. I have never had a problem with that at Duane Morris. I think that everyone who I'm working with is quick to make a phone call. Secondly, responsiveness. Duane Morris is good at this: If someone can't call you back right away, you'll get a call like, "He's here now, and he'll call you back in an hour. Is that OK? And if not, can someone else help you?" Nine times out of 10 when I call it's not urgent. But it's that tenth time when it is that I need my firm to be very responsive. I get that from Duane Morris.
Q: How do you spend your time when you're not working?
A: Traveling. I go back and forth from St. Louis to New York, where I still have a home. One of my [four] daughters lives there. If I'm not working and not traveling, I might be playing golf.
Professionally, I still stay very involved with securities industry groups such as the Securities Industry and Financial Markets Association, where I'm on the General Counsels Committee. I am also a consulting editor for the Journal of Investment Compliance. I am on the board of the Missouri History Museum in St. Louis, and recently joined the board of trustees of the Securities and Exchange Commission Historical Society.