Alumni
In Memoriam: Dennis Konner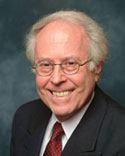 Dennis Konner
Dennis Konner, partner in the Real Estate Practice Group in New York, died in March 2018 after a brief illness. He was 75.
Dennis joined Duane Morris with the Thelen Group in 2008. He focused his practice on commercial real estate transactions and he was a preeminent practitioner who was by all accounts an impeccable lawyer. He represented owners, developers and not-for-profit entities in real estate matters, including the acquisition and sale of commercial, hotel, multifamily and mixed-use properties, the purchase and sale of commercial condominium units, permanent and construction financing, assemblage transactions and leasing including ground leasing.
His friend of 50 years, fellow New York partner Fred Cohen, said he was a gentle giant in the real estate community. Michael Grohman, head of the New York office, added that he has never seen anyone more committed to his clients.
Dennis is survived by his wife, Barbara, and his children, Marni and Jason.