Alumni
Letter from the Chairman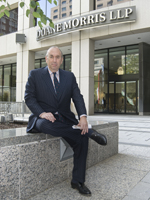 Few individuals have witnessed Duane Morris' growth over the years quite like Roland Morris. Roly's ties to the Firm actually started long before he joined Duane Morris. His grandfather and namesake, Roland S. Morris, was one of the Firm's founders in 1904. It was certainly a great thing for Duane Morris that Roly chose to continue his family's legacy at the Firm. We thought this was a good time to share his memories about the Firm with our current lawyers and our alumni, including those who have had the privilege of working with him during his exceptional career.
Roly's list of accomplishments is extensive, but he's particularly proud of his community endeavors. As you will read, Roly has been very significantly involved with a number of nonprofit organizations and academic institutions. He credits the Firm for fostering a culture of contributing to the community. I'm proud that this has continued to be an important part of the Firm's culture and the backbone of our value system since the start of Duane Morris more than 110 years ago.
Each year, our attorneys and staff donate a remarkable number of hours to those in our communities who would not otherwise have access to legal services. As a result of this commitment, the Firm consistently earns recognition for our pro bono work. And our attorneys and staff members are also involved in many other forms of civic engagement.
We are pleased to bring you this edition of Alumni Spotlight and we welcome your feedback. Please do contact me at soroko@duanemorris.com or alumni@duanemorris.com to share your news and accomplishments.
With kindest regards,