Alumni
Letter from the Chairman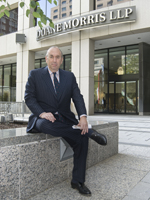 In our demanding profession and others like it, drive and ambition can cause a singular focus and predictable career trajectory. But sometimes a defining moment can change that path forever and yield unexpected and spectacular results.

Take Adam Taliaferro—a name synonymous with endurance, strength, courage and resiliency, among other admirable traits. It has been 16 years since Adam's devastating spinal cord injury that ended his dreams of a professional football career. In the months after this incident, many followed his recovery and witnessed his indomitable spirit, which inspired and captivated the nation.
Upon his remarkable recovery, Adam forged a new path and enrolled into law school. He also established the Adam Taliaferro Foundation, which provides scholarships to student athletes and supports individuals who have suffered life-altering injuries.
When Adam joined Duane Morris' Cherry Hill office, we were delighted to have added to the Firm a smart, hardworking and tough lawyer. He inspired us with his legal skills, his background and his charity work, and now, as a Duane Morris alum, we remain proud of Adam's many accomplishments. He is a true paradigm for remaining positive in the face of adversity and enthusiastically embracing the unknown. Thank you, Adam, for checking in with old friends and colleagues.
We are pleased to bring you this edition of Alumni Spotlight and we welcome your feedback. Please do contact me at soroko@duanemorris.com or alumni@duanemorris.com to share your news and accomplishments.
With kindest regards,