Alumni
Letter from the Chairman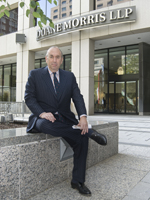 For Duane Morris, 2013 is certainly off to an exciting start!

On January 1, 2013, Duane Morris opened an office in the Silicon Valley, in Palo Alto, with the addition of IP litigator Karineh Khachatourian, who serves as managing partner of the new office. Duane Morris has long represented clients in Silicon Valley, in intellectual property matters, and particularly patent litigation. Now we can serve those clients and others much closer at hand and with expanded capabilities.

Also featured in this edition of Spotlight is Duane Morris alumnus Dick Flannery, a former corporate associate in the Philadelphia office who, after Duane Morris, went from serving as executive vice president at Delaware Investments to heading up, as its CEO, The Investment Fund for Foundations (TIFF), a current Firm client. Dick has strong ties to Duane Morris, and some great recollections of life at the Firm in the 1980s—not all of which can be printed here!
As always, please remember to share your own news with us. You can reach me at
soroko@duanemorris.com
or contact
alumni@duanemorris.com
.
With kindest regards,