Alumni
Letter from the Chairman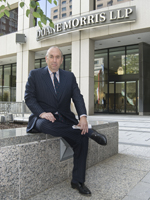 When a promising young lawyer leaves Duane Morris to pursue a career in-house, we can't help but feel proud when he or she lands a job at a great company.
Ricardo Núñez is a more seasoned lawyer who has also had some great professional and career opportunities after getting his litigation training while an associate at the Firm. Now, as Vice President, General Counsel - Securities & Regulatory at The Penn Mutual Life Insurance Company, Duane Morris alum Ricardo has drawn from past roles at the Financial Industry Regulatory Authority (FINRA), the Securities and Exchange Commission (SEC) and the U.S. Attorney's Office for the District of Columbia.
We hope you enjoy our sixth edition of Spotlight. keep us in mind when it's time to share your own news with us. You can reach me at soroko@duanemorris.com or contact alumni@duanemorris.com.
With kindest regards,