Alumni
Duane Morris Remembers Our Friend and Partner James J. McCabe, Jr.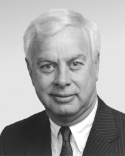 This past spring, retired partner Jim McCabe died at his home in the Chestnut Hill area of Philadelphia, following an extended illness. Jim was 81.
Jim had a long career with Duane Morris, which spanned six decades. He first joined Duane Morris in 1955 and became a partner in 1964. Over the years, Jim served in a number of key leadership positions at Duane Morris, including as a member of the Partners Board and for 11 years (1984–1995) as chair of the firm's Trial Practice Group. During his years as Chairman of the firm's Trial Practice Group, he was a very influential mentor and role model for many of the more senior trial partners now still actively practicing with Duane Morris.
Jim was one of the best-known, most widely respected and most effective trial lawyers ever to practice with Duane Morris. The area of law in which he first became a noted trial lawyer was medical malpractice defense, and Jim quickly became perhaps the preeminent lawyer in Philadelphia practicing in that field. His knowledge and understanding of medicine was the equal of many doctors, and Jim taught a number of courses in law schools on medicine and in medical schools on law. He was certainly equally well-versed at doing either. Later in his career, Jim led the firm's efforts in protracted commercial, corporate, securities and antitrust cases, and also handled in the early 1990s the firm's first major IP patent infringement case, now a very active area for Duane Morris.
John J. Soroko, Chairman and CEO of Duane Morris:
"Jim was a true Renaissance Man, and his interests included philosophy, theology and religion, politics and music. It would be inaccurate to say that these were Jim's interests outside of the law because to work with Jim was to be exposed to all of that and, somehow, Jim brought all of those interests together in his law practice. Those who had the pleasure of working with him learned a lot more than just the law. Despite all his honors, Jim was always self-effacing, and the first one to tell a story on himself. Of course, that was consistent with the fact that Jim was keenly aware that his reputation preceded him!
"A particular story he never tired of telling involved his work on a grueling medical malpractice trial against one of Philadelphia's most esteemed plaintiff's lawyers. Jim decided to take a break on a Saturday night during the trial so he took his wife to the orchestra. Upon leaving the concert, he passed the building where his opponent had his offices and noticed that the lights were still on. Fearing that his opponent was hard at work, Jim made the decision to send his wife home and he went back to Duane Morris to work nonstop through the rest of the weekend on his closing argument for Monday. Jim later mentioned to his opponent that he had seen his lights on, and he was about to say how this had inspired him to work day and night throughout the weekend, when his opponent stopped him short by saying that his damn cleaning service never turned his lights off! Jim loved telling that story; and, yes, as was so often the case, the jury later returned a verdict for Jim's client!"