Alumni
Alumni Profiles - Chris Winter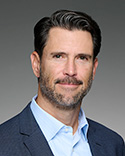 The Duane Morris attorney left the firm, his practice area and even his office ZIP code in search of his niche, then rejoined Duane Morris with a new set of skills.
Chris Winter's quietly engaging personality makes him well-liked among his colleagues and clients. But it is his business savvy and willingness to take risks that have made him increasingly successful. Since he began practicing law, the 37-year-old Duane Morris partner has smartly navigated the economy's ups and downs by broadening his practice and turning obstacles into opportunities. Shortly after being promoted to the partnership in January, the New Jersey native discussed why he left Duane Morris and what he—and the firm—got in return when he came back.
Q: Why did you choose to practice in bankruptcy law?
A: When I graduated from Rutgers [School of Law–Camden] in 2001, I knew that I wanted to help businesses, but I didn't know exactly what that meant. Corporate transactional work was not very busy, but corporate bankruptcy was booming in Wilmington. I had an opportunity to work in litigation and bankruptcy at Wilmington's Morris, Nichols, Arsht & Tunnell. I discovered that not only is bankruptcy a very fast-paced practice, but also, if you have an intellectual bent, bankruptcy practice is pretty satisfying. Matt Neiderman, a former associate at Morris Nichols, left to join Duane Morris' Wilmington office in its Practice Group. We stayed friendly, and he frankly sold me on coming to Duane Morris, along with [current Wilmington office managing partner] Mike Lastowski and [Wilmington partner] Rich Riley.
Q: After four busy years practicing here as an associate, you left the firm, your practice area and Wilmington, too. Why?
A: In the beginning, I worked seven days a week, and there weren't enough days in the week to do all of the work. Even if no new matters came in for three months, I could still be billing 10 to 12 hours a day for the following three months. But by 2006, corporate bankruptcy had really slowed down. I thought of retooling myself as a corporate transactional lawyer, but there just wasn't enough of that kind of work at that time. I was a fifth-year associate and felt like I should be busy, doing novel things and pushing the envelope of my skill set. In 2006, another firm offered a very unique opportunity: Morgan Lewis would retool me as a corporate transactional lawyer in Philadelphia. Although there is a natural common ground between the two practices—in bankruptcy, we deal with financing issues and lenders and agents in debtor-in-possession financings—it was an intense learning experience. My focus was commercial finance.
Q: Then you came back to Duane Morris. How did that happen?
A: In 2008, of course, corporate work started to dry up, and bankruptcy became hot again. Mike Lastowski reached out to me to have dinner and catch up. I had such positive memories of working at Duane Morris, and it seemed a win-win situation. I rejoined the firm in March 2009. It's been extremely busy almost from day one. Shortly after I rejoined, we began representing a Midwest-based ethanol company in a big bankruptcy case in April.
Q: So your practice is now a broader mix of bankruptcy and corporate work. That sounds sort of recession-proof.
A: It's really paying dividends, in that I have a much broader skill set. In addition to bankruptcy work, I have issued corporate legal opinions, advised other law firms on mergers and acquisitions under Delaware law and closed a fair-sized commercial finance transaction. My practice is about 65-percent bankruptcy, 35-percent corporate. Becoming more diverse and flexible and able to practice in different kinds of economies was very lucky.
Q: What do you do when you're not working?
A: I coach my 8-year-old daughter's soccer team with my wife. I enjoy reading and golfing, and I also run.
Q: How has your day-to-day practice changed now that you are a partner?
A: I expect the flow of referrals to increase now that I'm a partner at the firm. People are more willing to refer work to a partner. That's exciting.