PHILADELPHIA and CHICAGO, November 5, 2019—Duane Morris LLP special counsel Brian J. Slipakoff in the Philadelphia office and partner Richard P. Darke in the Chicago office were honored at the firm's annual meeting for their pro bono contributions. Slipakoff received the 13th annual Duane Morris Pro Bono Award and Darke was the recipient of the fifth annual Duane Morris Pro Bono Leadership Award.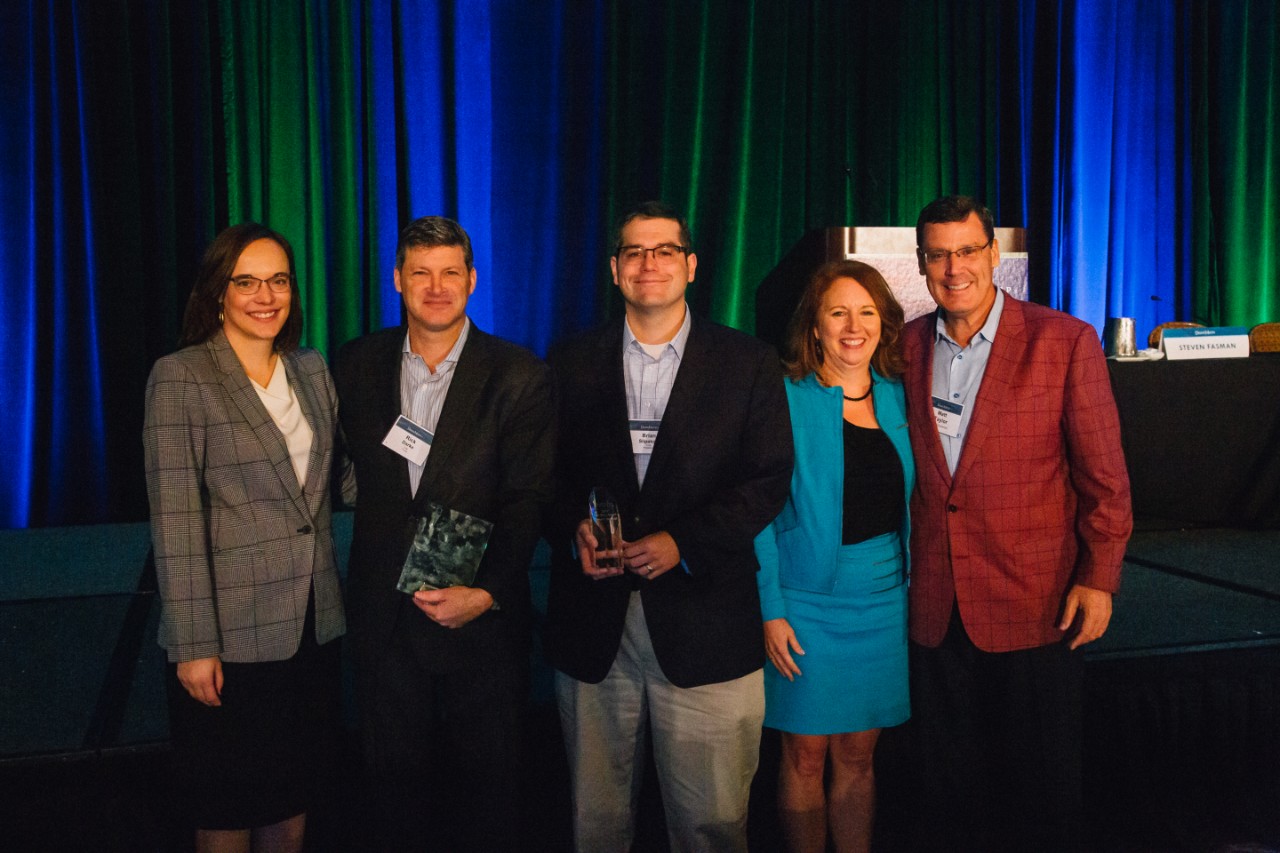 Pro Bono Counsel Katharyn Christian McGee, Richard P. Darke, Brian J. Slipakoff, Pro Bono Partner Valentine A. Brown, Firm Chairman Matthew A. Taylor
The Duane Morris Pro Bono Award honors the outstanding service of an attorney who exemplifies Duane Morris' commitment to pro bono service and has made a significant impact on an individual or community. The recipient may select a local legal services organization to which the firm will make a $5,000 charitable donation to support its efforts. The Duane Morris Pro Bono Leadership Award recognizes an attorney who exemplifies the spirit of pro bono: a selfless, long-standing and unwavering commitment to pro bono service; a leader by example who accepts pro bono matters without fanfare; and a pro bono contributor who encourages and mentors other firm attorneys in pro bono service.
Brian J. Slipakoff was chosen for his successful appeal in the Pennsylvania Supreme Court of an improper juvenile resentencing wherein he clarified the legal standard for such cases in Pennsylvania under recent Supreme Court of the United States precedent. His client was sentenced to life without parole as a juvenile for second-degree murder. Fifteen years later, the client was subject to resentencing pursuant to Supreme Court precedent holding that juvenile sentences of life without the possibility of parole are unconstitutional. Slipakoff appealed an improper resentencing by the local Pennsylvania Court of Common Pleas, which refused to consider all constitutionally required factors concerning the client's potential, permanent corruption (the only time a juvenile may be constitutionally sentenced to life without parole). The Pennsylvania Supreme Court reversed and remanded the case for a new resentencing. Slipakoff's win on procedural grounds will provide guidance to many judges and individuals across Pennsylvania who are still awaiting resentencing of unconstitutional life without parole sentences. He was also honored for his consistent willingness to help on pro bono matters, supervise junior associates and review complaints even at the last minute.
Slipakoff practices in the area of commercial litigation, handling a wide variety of complex commercial disputes. He counsels clients at both appeals and at the trial level involving claims related to mortgages, credit cards and other consumer financial products, contract disputes, business torts, securities and commercial fraud, various class actions, procurement bid protests in state and federal courts throughout the country, as well as Pennsylvania charter school application and authorization process.
Slipakoff is a graduate of Georgetown University Law Center (J.D., cum laude, 2003) and the University of Maryland (B.A., 2000).
Richard P. Darke was honored for his long-term pro bono efforts representing numerous clients in Section 1983 prisoner civil rights actions before U.S. district courts, averaging more than 100 pro bono hours annually for more than 10 years. He also mentors associates as they litigate similar cases before federal courts and juries. Recently, Darke helped obtain long-overdue hernia surgery for a client who had a "massive hernia," as described by doctors. The prison healthcare officials had refused to authorize the client's surgery. Darke led the team that obtained a favorable ruling in the U.S. District Court for the Northern District of Illinois that enabled the client to receive important medical care. He continues to pursue monetary damages for the client.
Darke is commercial litigator who focuses his practice on creditor rights, commercial finance, bankruptcy, and healthcare litigation. He has successfully represented clients in cases concerning commercial real estate and hotel valuations, structured finance, special servicer liability, tortious interference, consumer privacy, director and officer liability, breach of contract, fraud, fraudulent and preferential transfers, commercial foreclosures, Medicaid reimbursement issues and class action defense. Darke counsels clients on a variety of issues including the Illinois Biometric Information Privacy Act (BIPA), Illinois Trade Secrets Act, enforceability of non-compete and non-solicitation agreements and injunctive relief, as well as lender liability and fiduciary duty claims. He has successfully tried numerous jury and bench trials in state and federal courts.
Darke is a graduate of the University of Michigan Law School (J.D., 1998).
About the Duane Morris Pro Bono Program
The goal of Duane Morris' pro bono program is to provide free legal services to those in our communities least able to afford legal services, and usually to those who have a dire need of such services. The importance of pro bono work and volunteerism has been an integral part of Duane Morris' culture and the backbone of our value system since the firm's founding more than 110 years ago.
About Duane Morris
Duane Morris LLP provides innovative solutions to today's multifaceted legal and business challenges through the collegial and collaborative culture of its more than 800 attorneys in offices across the United States and internationally. The firm represents a broad range of clients, spanning all major practices and industries.