Duane Morris Pittsburgh Office Adds Trial Partner Randal M. Whitlatch
August 22, 2017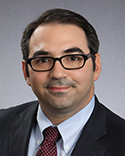 Randal M. Whitlatch
PITTSBURGH, August 22, 2017—Randal M. Whitlatch has joined Duane Morris LLP's Pittsburgh office as a partner in the firm's Trial Practice Group. Whitlatch enhances the firm's litigation capabilities in Pittsburgh and throughout the U.S. He joins Duane Morris from Dinsmore & Shohl LLP.
Whitlatch has wide ranging complex commercial litigation experience, including experience in mass tort, toxic tort, products liability matters, and healthcare-related matters. He has represented companies across industries, including chemical and life sciences companies, healthcare providers, natural resource companies, and metals and manufacturing concerns, in both state and federal courts. Whitlatch has also counseled and litigated for clients regarding records and information management.
Whitlatch is a 2006 graduate of the University of Pittsburgh School of Law, where he was senior topics editor of the University of Pittsburgh Law Review, and a 2003 summa cum laude graduate of the University of Pittsburgh.
About Duane Morris
Duane Morris LLP provides innovative solutions to today's multifaceted legal and business challenges through the collegial and collaborative culture of its more than 750 attorneys in offices across the United States and internationally. The firm represents a broad array of clients, spanning all major practices and industries.