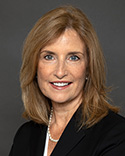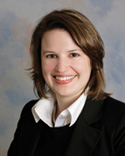 PHILADELPHIA, April 19, 2018—Duane Morris LLP's implementation of the Mindful Return program has been recognized by the San Francisco Gender Equality Principles Initiative, a San Francisco-based public-private collaborative that aims to help organizations achieve greater gender equality through implementation of its seven Gender Equality Principles. Mindful Return is a national initiative providing resources to help mothers prepare for maternity leave and transition back to the office.
Founded in 2008, the San Francisco Gender Equality Principles Initiative designed its Gender Equality Principles to offer "practical standards to which companies can aspire, and a measure against which they can assess their progress on fundamental issues of gender equality." Duane Morris' WINS implementation of the Mindful Return program was honored for the principles of "Management and Governance" and "Leadership, Transparency and Accountability." 2018 is the second time in four years that the firm was recognized. In 2015, Duane Morris was honored for its commitment to the principle of "Work-Life Balance and Career Development."
"We are honored to be recognized by the Gender Equality Principles Initiative," said Duane Morris Partner Sandra A. Jeskie, chair of Duane Morris' Women's Impact Network for Success (WINS) and partner in the Philadelphia office. "Duane Morris offers several benefits that help support new parents as they return to work. Mindful Return is the newest addition to our benefits package."
Mindful Return provides expecting mothers and those poised to rejoin the workforce with resources including a four-week e-course, in-person workshops and online articles providing tools and practical advice to help facilitate a peaceful, thoughtful and successful return to work after maternity leave. The program also offers a "Maternity Leave Template" on how to successfully communicate a maternity leave plan with managers, including work progress and coverage, planned weeks of leave, accessibility during leave and return to work.
Jeskie and fellow Duane Morris Partner Jessica E. La Londe (San Francisco) spoke about the firm's adoption of the Mindful Return program at the 2018 Gender Equity Challenge Forum on April 18 at the Schwab Center in San Francisco.
About the Duane Morris Women's Impact Network for Success (WINS)
The Duane Morris Women's Impact Network for Success is devoted to the success of the firm's women attorneys. Through various programs, WINS participants exchange ideas, foster and expand business contacts and opportunities and enhance attorney development to fully realize talent, knowledge and potential.
About Duane Morris
Duane Morris LLP provides innovative solutions to today's multifaceted legal and business challenges through the collegial and collaborative culture of its more than 800 attorneys in offices across the United States and internationally. The firm represents a broad array of clients, spanning all major practices and industries.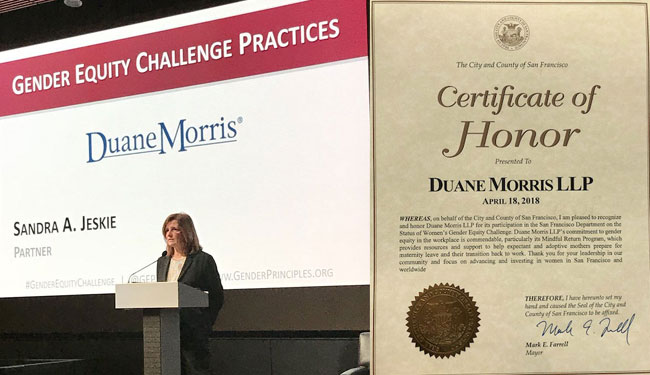 Sandra Jeskie speaks at the Gender Equity Challenge Annual Forum. Duane Morris is honored by the City and County of San Francisco.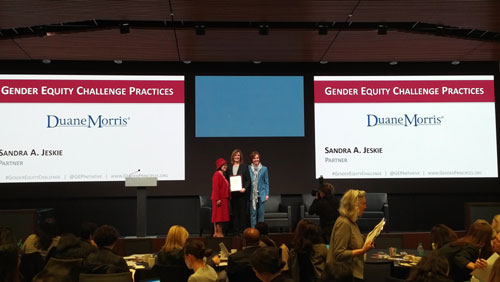 Sandra Jeskie (center) receives the award from Emily M. Murase, Ph.D. (left), Department on the Status of Women, and Carrie Schwab-Pomerantz (right), Commission on the Status of Women.