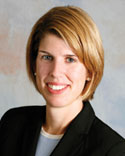 PHILADELPHIA and SAN FRANCISCO, November 28, 2018—Duane Morris LLP has named partners James J. Holman of the firm's Philadelphia office and Meagen E. Leary of the firm's San Francisco office as co-chairs of the Business Reorganization and Financial Restructuring Practice Group. Holman and Leary succeed partner Rudolph (Skip) J. Di Massa, Jr., who has led the group since 2001. Di Massa will continue practicing as a partner in the Business Reorganization and Financial Restructuring Practice Group.
"Skip's esteemed leadership for the past 17 years will be a tough act to follow," said Duane Morris Chairman and CEO Matthew A. Taylor. "But Meagen and Jim have been integrally involved in our yearlong business planning efforts, and I am confident that their dual perspectives will continue to make the contributions of the group vital to the future success of Duane Morris. I am especially glad to know that they will continue to build upon the strength of the relationships already established between our two U.S. coasts, and I am confident that they will carry this energy to our offices worldwide in the years ahead."
James J. Holman practices in the areas of commercial finance law, business reorganization, and business and municipal insolvency. He represents institutional lenders, trust companies, insurance companies and businesses in a broad spectrum of transactions, including corporate finance, business restructuring and bankruptcy. Holman is a member of the American Bar Association, the Delaware State Bar Association and the Commercial Finance Association Education Foundation. He is listed annually by Chambers USA: America's Leading Lawyers for Business, by Best Lawyers in America, and by the London publication Citywealth as a leading lawyer in the United States.
Holman is a 1989 graduate of Villanova University School of Law, where he served as managing editor of the Villanova Law Review, and a 1986 summa cum laude graduate of DeSales University.
Meagen E. Leary maintains a national creditors' rights, commercial real estate finance and bankruptcy practice. Her clients include institutional lenders, CMBS servicers, REITs, debt funds and other diverse businesses. Leary and her team handle all aspects of commercial loan workouts, bankruptcies, real estate finance and lender liability litigation, and commercial loan and real estate transactions. In addition, she provides national, coordinating counsel and general counsel services to several clients. Leary is a frequent speaker and writer on legal and practical issues that impact her clients and an active member of the Commercial Real Estate Finance Council.
Leary is a 2004 cum laude graduate of Tulane University Law School, where she was a member of the Tulane Maritime Law Journal, and a graduate of the University of California, Los Angeles.
About Duane Morris' Business Reorganization & Financial Restructuring Practice Group
Business publication The Deal consistently ranks Duane Morris as one of the most active bankruptcy practices in the United States. Attorneys in the Business Reorganization and Financial Restructuring group have earned a reputation for thoroughly understanding the rights and obligations of the various constituencies involved with a financially distressed company, developing a plan of action designed to achieve the client's goals and executing the plan under what are often very difficult and rapidly changing circumstances. Regardless of whether the plan of action involves bankruptcy, the enforcement of creditors' rights, an out-of-court financial restructuring transaction, or an insurance company or cross-border insolvency, Duane Morris lawyers are fully prepared to protect and advance the client's interests.
About Duane Morris
Duane Morris LLP provides innovative solutions to today's multifaceted legal and business challenges through the collegial and collaborative culture of its more than 800 attorneys in offices across the United States and internationally. The firm represents a broad array of clients, spanning all major practices and industries.