Alumni
Letter from the Chairman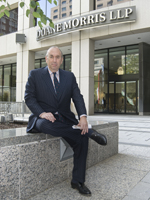 We are pleased to share this third edition of
Alumni Spotlight
, our alumni newsletter.

In this issue, you will hear from our client and friend, Duane Morris alumnus Jay Ferguson, the U.S. general counsel of Randstad Staffing. Over the years, Duane Morris has helped Randstad—one of the largest staffing companies in the world—with a variety of legal work, including employment litigation; traditional labor work; real estate; corporate; and patent and trademark advice. Atlanta partner Terry Finnerty worked closely with Jay at Duane Morris and continues to work with Jay as one of his trusted advisors.

Also in this issue, you can read more about our exciting new joint venture in Singapore, Duane Morris & Selvam LLP. When I joined Duane Morris in 1977, the firm had one office outside of Philadelphia, with four or five lawyers all of 15 miles away in Paoli, Pa. We now have some 17 lawyers in Singapore, literally half a world away, along with offices in Vietnam and London.

We have also included a tribute to retired partner Jim McCabe, who died at his home in Philadelphia, following an extended illness. Jim, who was 81, was a very influential mentor and role model for many of the more senior trial partners now still actively practicing with Duane Morris.
We have received great feedback from you, our readers. We are also proud that this spring, PR News' Legal PR Awards named Spotlight the year's "Best Client Newsletter." We look forward to sharing more stories that keep our alumni in touch with Duane Morris and in touch with each other.
We hope you will share your own stories and news in our next edition of Spotlight. Please contact me personally at soroko@duanemorris.com or contact alumni@duanemorris.com.
With kindest regards,