Alumni
Letter from the Chairman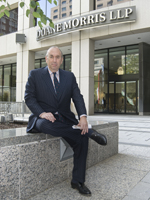 We are pleased to bring you two interesting profiles in this issue of Duane Morris' Spotlight.

First, former Duane Morris partner Steve Mallozzi, now the Vice President and Associate General Counsel-Litigation at ARAMARK, sat down with us just after he was promoted to that new role from his prior position as the general counsel for ARAMARK Education. Steve, who was a rising star in the Trial Practice Group at Duane Morris, is now overseeing ARAMARK's global litigation. Not only is ARAMARK a home to Steve as well as several Duane Morris alumni, the company is also now a valued Duane Morris client.

We also spoke with Maura McInerney, now Senior Staff Attorney at the Education Law Center. It was during Maura's tenure at Duane Morris that she took on a pro bono matter that would change her career. She was so inspired by a settlement she achieved for a student with special education needs that when a position opened at the Education Law Center, she jumped at the chance to continue working with at-risk students.

Finally, in this issue we also remember our friend and partner Cheryl Blackwell Bryson. In January, Cheryl died at her home in Hyde Park in Chicago after a long battle with cancer.
This is our fifth edition of Spotlight. We hope these stories inspire you to connect with us and share your own news. Please contact me at soroko@duanemorris.com or contact alumni@duanemorris.com.
With kindest regards,